Spherical whistles is a term I use for various whistles , Globular shaped Balloon shaped and others which were not in use in Marine vessels or as Swiss and French railway whistles , Known as short Buson type whistles , but for Hawking, Bird calls , and Bicycle whistles , It is also known as Short Buson or Swiss Railway whistle. there is a large variety of French made toy and military whistles which were made in France when Flying Balloons were popular, although they do have a spherical sound chamber the mouthpiece is note a pipe (See last photos samples of round whistles with spherical sound chamber). The term Globular whistle appears on old catalogs.

The above Hawking whistle was made in Switzerland c 17th, 18th Century ,
It has a the look and feel of a Copper and Bronze mixture I did not see before.
A  British spherical whistle shows at the British museum as Hawking whistle dated to 15thCentury


G & J. W. Hawksley 1899 Catalog shows model no . 1777, But some of the actual whistles were made before the catalog date. It is described in the Catalog as Boatswain's whistle, made of The Best German silver .
It is a Flattened Spherical Shape.


The stamp under side of the pipe .
G & J. W . Hawksley ( Sheffield)
A more fancy model by Hawksley , made of silver with ornaments.

A  Flattened Spherical Spherical and aside by side.

A Spherical whistle stamped H. Miller & Co. Birmingham.
The co. was founded 1869 Aston Brook Street, Birmingham.
and delt with bicycles lamps and more. Note the Flared end pipe opening
and the German silver cap ( Ring and base)

J. Hudson & Co. Spherical whistle, 50 mm
50 mm seemed to be the standart size used by various makers.
Another J. Hudson with large toothgrip

Alfred DeCourcy Brass Model of spherical whistle for Bikers, with a wheel relief in the center .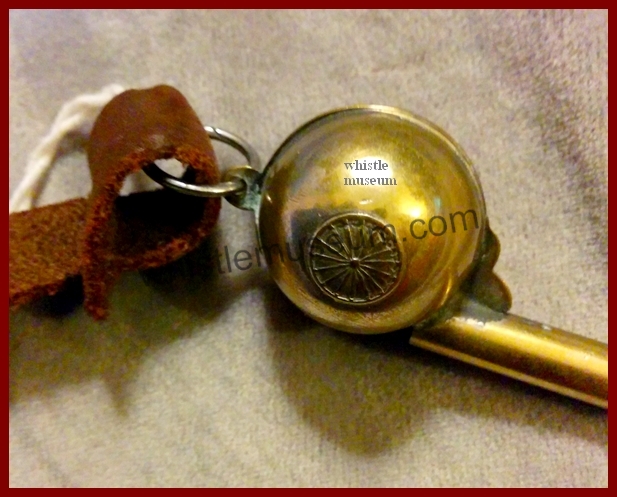 The photo above shows a detail of DeCourcy design of a Brass braket going all the way from where the pipe ends to the window as a frame with a 'ring' being part of it.
A Flattened spherical whistle , Silver, made by Brook & Son, Edinburgh 1906
50 mm . Same as Hawksley Model 1777.

A Spherical whistle stamped Manton Calcuta, Manton & Co. Firearms and ammunition makers and dealers started in London and opened in Calcutta 1820's.
The whistle was probably made by J. Hudson, or A. DeCourcy.

A Large French Spherical whistle , used as a Bird Call, Game Call
( Appeau)


Here it is pictured along side of a Stevens Cylinderical whistle, for size comparison.


A silver Spherical whistle probably from Europe unknown early date,
Made by a Silversmith with a nice different design to the part which supports the pipe. ( Understrengthening part )

1899 Catalog of Julius Heinrich Zimmerman ( German Maker)  , showing a Kugelschrillpfeife  50 mm , Nickel Plated Brass.
A German Variation .
( wooden ones to be aded)
Large French Cast Balloon globular whistle by S.E  , with 4 windows.    

Two Round French whistles with Spherical top
I had much pleasure writing hope you enjoy reading, These whistles are all rare
to find if you do have any more information or pictures or questions you are welcome to share and help my research. please, email: info@avnerstrauss.com
All right reserved.