Underconstruction
The First Two Notes Tube Whistle ( G.S.W )  With Partition Discovered  Stevens & Son . By A. Strauss ( Part I )

Stevens & Son at Darlington Works 1865 ,
Seated 3rd from left is James Stevens 1807 – 1881 Son of John Stevens the Founder 1779 -1861.
Preface
2016 was THE BEST  in many years ( for me )  in discovering fantastic ground breaking news about whistles , and information about Whistle Makers – Manufacturers,
Some really change all we knew and thought about whistle history , whistory.
While preparing long articles with serious news about unknown whistles and new historical facts , for this blog , I thought of sharing this , since I had some reasons to celebrate today so here is a taste of some of  the new findings about Stevens's whistles and history.
The Invention of the partition or TUBULAR WHISTLE WITH A PARTITION
and two different lengtn chambers . belonging to Richard Porteous and made by J. Stevens & SonPrior to 1866 .
The FIRST KNOWN G.S.W – General Service Whistle , Or
T.N.T – Two Notes Tube Whistle or TNTW a term I prefer .
The Partition is a long rectangular metal sheet inserted within the tube of the whistle's body; thus dividing the whistle into Two Chambers , then making  UNEVEN depth or length to each chamber by shortening the inside part of one chamber so it produces a higher pitch than the longer one .
This could be done by few drops of lead inside one of the chambers, or by making the inside part of the top uneven, or in later years by bending the partition 45 degrees at its end so it cuts one chamber shorter, so the whistle plays two notes of different frequency and pitch at the same time creating a dissonance which has a louder and more alarming sound than a single note. 
Previously this invention was attributed to J. Hudson & Co. early 1880's
with the Metropolitan whistle,
But the first one was actually made Pre 1866 by J. Stevens & Son
designed by Richard Porteous , and stamped 'Porteous's whistle' Made by
Stevens & Son Southwark Bridge Road  London  .
The previous known Porteous Tube whistle that was made earlier and in Brass , in the 1850's and maybe very early 1860's had two windows and no partition .
BUT it already had two distinct original features that would be imitated and served as a model for few dozen years by other makers ; that is THE TOP CAST LOOP , concaved loop , ( Compare to Dowler's whistles for example ) and THE MOUTHPIECE , the first to have the design I call 'APPLE MOUTHPIECE' it was  to serve as a model for makers to follow, Dowler , Hudson, & Barrall to name a few . It is still considered a most desirable design by collectors.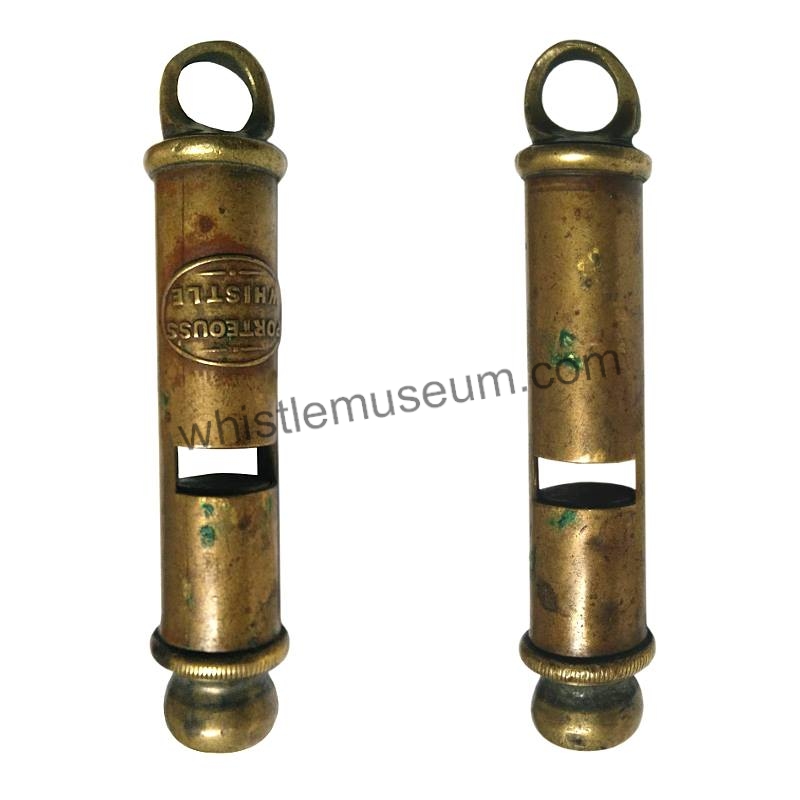 The next step was inserting a partition and making one chamber shorter to produce two different sounds- Pitches – Frequencies at the same time .
It should be noted that he  two chamber whistles were previously used but
only in flat two chamber whistles .
The new idea was revolutionary.
There are Two models ; one has a Bulbous top known as 'Porteous Top' Tube whistle MODEL # 27 , Previously unknown , and the other a straight tube ,
Both have a THE FIRST KNOWN PARTITION – which I call "Short Partition" previously unmentioned , both share a SHORT PARTITION which does not connect to the diaphragm or the diaphragm disk ,
The ones that do meet the diaphragm were a later development also made by Stevens shortly after and became the STANDARD of the industry .
These first whistles were expensive to make at the time .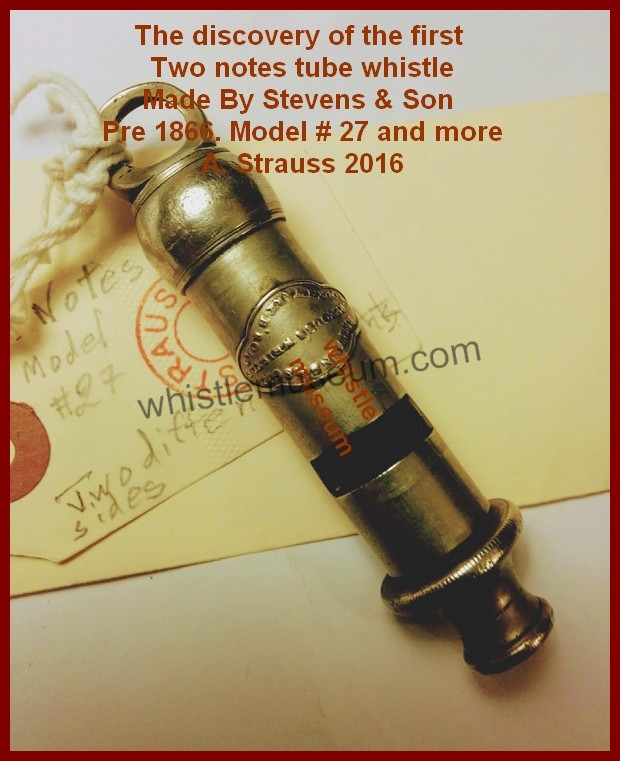 Both whistles have machined combined mouthpiece and diaphragm .
which vary in Length and fit the window height , the Lower the windows
the shorter the machined Mouthpiece.

2nd
–


Next is a close up of two examples of the first partitions produced by
Stevens & Son.
I call these "Short Partition" "  since you may notice the space between the partition and the diaphragm ; in this case a machine threaded mouthpiece
and combined M.P   – one piece Mouthpiece and diaphragm.
Straight tube none porteous top Pre 1866 TNTW with partition . It seems that this yet unnumbered model predated the Porteous top one , and was developed in the late 1850's early 1860's.

If you are interested in Antique whistles and History I recommend a group on Facebook  which proved to have been a great source for sharing and discovering new whistles, some of the greatest collectors are there and I would like to thank the members for making 2016 such a great year.
Search facebook for this group : Antique Whistles Ancien Sifflets
Whistle museum article and photos and content by Avner Strauss, all right reserved , 2008 no part of this webpage is to be used without the explicit permission of the owner.
Email : info@avnerstrauss.com All rights reserved 2016
Best Regards Avner Strauss