Stevens &­­­­ Sons Whistles & History.   Avner Strauss
Part A        (Underconstruction)
General History, Addresses, Richard Porteous importance and inventions, Railway and more adv.  Stamps time line and a glimpse at few whistle example
from many more to be discussed in more details in part B , C, & D , as interlude.
Whistles
Part B – Tube whistles SNT & TNT
The First Two Notes Tube Whistle,
The first SNT (Single Note Tube) with two windows ,
The Invention of the Partition, & TNT (Two Note Tube) Stevens & Sons
Part C – Dating Stevens & Sons Whistles, Dating Stevens's Whistles,
Round Whistles & others, retailers & Much more.
Part D – Bell Whistles and the discovery of the inventor
John Stevens  1779 – 1861
James John Stevens 1807-1881
James Stevens Jr.  1840 –1911
Warwick Alan Stevens  1842– 1924
Richard Porteous  1802-1881
Company History 
John Stevens was Born in Birmingham 1779 and came to London to start his Business in the early 1800s, He started as a maker and supplier of agricultural
Implement maker,  supplying the army with Shovels & pick axe handles,
during the Napoleonic wars. Soon after the wars he moved into Gas pipes making supplies and engineering, and into Railway supplies which was a fast growing business which he got into influenced by his wife's Brother who was an agent for railway supplies.
In the 1820s, 1830s he was mentioned as having connection to George  Stephenson . ( Inventor of the Locomotive, the miner lamp and "Father of the Railway")
The company grew fast with his son James John Stevens joining and expanding the firm taking part in the Great exhibition of 1851 and 1861 so in the pre Glasgow branch (1865) they already had close to 70 employees while the new SIGNAL WORK kept growing after his father the founder John Stevens died (1861)
James moved with his family to Glasgow in the 1860's.


Stevens & Sons c. 1865 James John Stevens age 58, and two sons James Stevens Jr.age 25 & Warwick Alan Stevens age 23. [other sons which seemed to be less involved in the family business are Leicester Bradney Stevens 1851-1914 and Stafford Evan Stevens 1845 – 1866 who died at the age of 21 are not in photo]
John Stevens Tombstone * at Norwood grave 3817, square 47
(d. December 4 1861 )

other burials at
the grave are
James John Stevens ,
Caroline Matilda Stevens
(d .19th Nov 1871),
Anna Maria Stevens
(d. 26June 1858 )
and Stafford Evan Stevens
(d.12 March1866 )
General note and observation with some reservation: At the time period, there were no whistle makers per se but rather brass founders iron mongers and Arm makers, Kitchen ware manufacturers Button makers and other goods, who made whistles as a "side line", Today whistle collectors and scholars relate to some as Whistle Makers. This article here concentrates on the general Company History and whistles made or attributed to Stevens & Sons and less in many other aspects ( There are many details ) of the family Biography.
See my article about 19th century Whistle Makers.
It is also important to understand that as manufacturers and factory owners had rarely a shop of their own and were dependent on orders from retailers, contractors and companies, this explains that rarely an actual manufacturer name is stamped and many times a stamp of the retailers,
companies or inventor appears.
Stevens & Son, were one of the 3 great whistle makers up to 1860s.
And by the 1840's were manufacturers of mostly Railway related goods: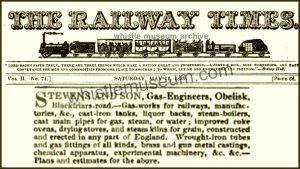 The railway Times Magazine Vol. II 1839 Adv. by Stevens & Son
We can Learn about the diversity of products and projects Stevens & son were manufacturing in 1839 : GAS-ENGINEERS, OBELISK, Black Friars road :
Gas works for railways, manufactories, Cast Iron tanks, Liquer backs, Steam Boilers, cast main pipes for gas, steam or water, improved coke ovens, drying stores, and steam Kilns for grain constructed and erected in any part of England. Wrought- iron tubes and gas fittings of all kinds, brass and gun metal castings, Chemical apparatus, Experimental machinery, etc. etc. Plans & estimates for the above.
One may note which of the above relates to whistles.
From huge iron constructions to Railway Signals and smaller Scales, Hand Lamps and of cource whistles which were not mentenioned in advertisments. Below you can see part of a Scale made at Darlington works and a Hand Lamp made by Stevens in the 1840s .
Here is a historic whistle, heavy gun metal made of one rod and a screw mouthpiece, early whistle before size and weigh were reduced designed by Porteous and made by Stevens C. 1920s, 1830s. A previously unknown whistle found 2015 which employs the first known compound round Mouthpiece .
Part C has a lot more on this whistle and many more, as wellas the next one.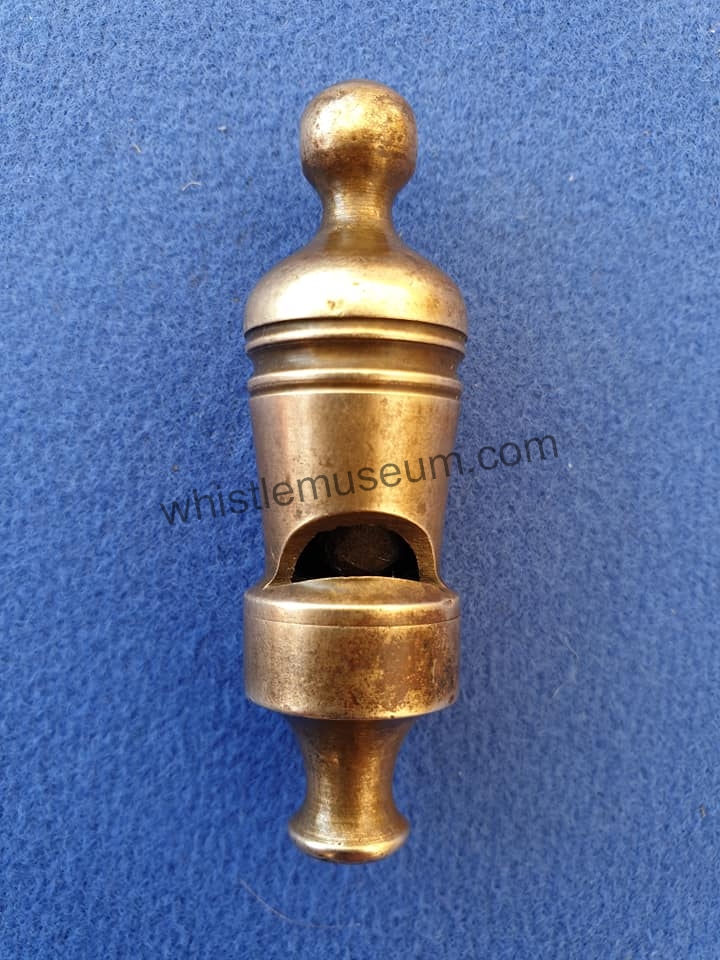 * Photo Dan Wood
After 1880's and John James Stevens Death, apparently being a very rich man, the Company was ran by his sons, as to whistle making the company had to compete with many new makers they kept making whistles of great quality but c. 1900 they started ordering whistles Stamped 'Stevens & Sons Manuf. London & Glasgow' from J. Hudson & Co. and c 1904 , their whistle making business stock & tools where sold to J. Hudson & Co. few variations of these whistles & Stamps would be discussed in part B soon.
---
                                                                Addresses *
Stevens and Son(s) addresses:
 1810 – Well St. Well Close Sq.
1820 – 4 St George's Circus 1832.
1835 – 8 Southwark Bridge Rd.Darlington Place,  Darlington Foundry.
1838 – 9 – Obelisk, Black Friars Road.
1840 – Darlington Works, 17-19 and 178 Southwark Bridge R
178 was added later in the 1840s and so was num. 16.  Number 178 under the railway arches seems to have been a retail outlet. The family was living on the premisses of 17-19 . In the 1850s number 16 was added.
Photo 4 St George Circus
The Duke of Clarence Pub is still there has no.6 on the door.
Stevens & Sons were at no. 4 at least up to 1833.
Glasgow Addresses and more
 'Signal Works' Glasgow
1866 to 1868  – 30 Great Western Road , Clarendon Place, Glasgow
1868 – Signal Works 500  New City Road , Glasgow
1872 – 1874 187 Great Brunswick St. Dublin.
Stevens & Son Changed to Stevens & Sons c 1870
*App. Dates
---
Advertisements
1868 Advertisement the first one noted mentioning  whistles, Signal & Guards whistles Etc.

1859 Adv. shows 16-19 Southwark bridge as well
–


1872 advertisement for Stevens & Sons London Glasgow & Dublin

1893 adv.
1906 adv.  Shows Stevens Darlington Works at Southwark Bridge London and Signal Works in Glasgow Up to 1906
---
                                                           Richard Porteous

Richard Porteous was a genius, a musician, a music scholar and THE greatest innovator and designer of whistles in the 19th Century, pioneering few ideas in mostly in the early 1830's and during the 1840's.
Among his inventions and designs we see the next features :
The first TNT (Two note tube whistle) with Partition
The Compound round Mouthpiece on a whistle
The Loop top,
The Screw Top &
The Screw Mouth Piece.
The Slide Dog Call ( 2 types)
Milling to top and later to MP (Mouthpiece)
The "Apple Mouthpiece" a term I used first to describe a bulbous round apple like mouthpiece.
The Acron Top on round pea whistles may had been his design, probably copied, inspired by French whistles of the time.
The Bulbous top which became known as "Porteous Top"
The last functioned for better grasp of the screw part and later became an ornamental feature.
It is my observation that his designs set the STANDARD for all whistle makers to follow. You may see more details about these features and inventions
in my original review of  Stevens & Sons Whistles ,in Part A & B
Of this article.
I believe that all of Porteous designed whistles, some found without metal plates any stamp or number, were all made by Stevens & Son.
This relies on careful examination of  various whistles for many years, and a testimony in an 1848 book* which describes Porteous whistles and stating they were made by Stevens & Sons.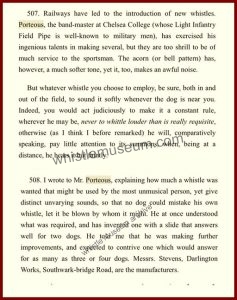 Excerpt from the book "Breaking the dog for a Gunmen" by W.N. Hutchinson.Lieut.-Gen. Published 1848 and written before. Includes a fascinating note as Hutchinson was discussing & writing to Richard Porteous concerning whistles.
From very early days Stevens & Son were making whistles that were not designed by Porteous. It seems that being a long time suppliers of military goods and whistles as well made the connection to Porteous who was a Military band Leader, it was in the early 1930's that they started making whistles for him as "Porteous Field Instrument".
My article about Stevens & Sons Tube whistles designed by Porteous reveals that he was the inventor of the first TNT whistle (Two note tube whistle) . See Part B
From  whistles made by them with no plates or numbers, I learn that the relation between Richard Porteous & Stevens started in the late 1820's or very early 1930s and lasted until the early to mid 1860's. Later on after 1865 and John Stevens death,  Stevens & son-sons continued to make his designs but without his name mentioned.
I believe that about half of the whistle models made by Stevens and sons had not yet been found by whistle researchers and that includes some designed by R. Porteous.
---
Whistles, interlude to Part B , C & D of the article .
Dating Stevens Whistles with actual examples would be in Part C 
Stevens & Son/s Stamps on 6 Plates * & Time Line.

Above plates found on Stevens & Son/s made whistles which are at the whistle museum collection, arranged by time line, a further discussion of these in details would appear in part B & C  of the article.
Time line :
1832 – Porteous's Regimental Field Pipe
1840s – mid 1850s. Porteous's whistle
1850's ( Mid -Late 1850s) up to 1865 Stevens & Sons Porteous's Whistle.
1865 – 1870 Stevens & Son whistle patent
1868 – 1870 Hebbert & Co. (a supplier ) Patent whistle
16 st James st. Haymarket
1871 – late 1870s Stevens and SONS Manufacturer London & Glasgow.
Beside the 6 plates noted here, there were other plates made for other
retailers and Railways lines, here is an example for  an early
London & N. W. Railway.

Actual earliest whistle by Stevens
Early round whistle c. 1810s to 1820s Gun Metal, attributed to Stevens. 
Heavy early round pea whistle c. 1830's with Flat Digaphragm Disk.
A Round Dog Call build as a slide whistle , stamped on back # 36                         
Stevens & Son/s known Numbered whistles. to be discussed in Part B.
Porteous's Regimental Field Pipe c 1932
PORTEOUS'S WIND INSTRUMENT FOR SIGNALS REGISTERED February 27, 1845. Designed c. 1843
A Black Sap, whistle and cosh : "Porteous's Life preserver" 1833 – 4
British Goverment Marks since 1840 and some probably before, Mark (K) appears on some of the earlier Porteous TNT and SNT whistle types.* and
few decades later on J. Barrall whistles.


A round pea whistle 50 mm Number 31 with screw top and a circular window.
One was sold at an Auction October 2020 , Hammer Price 2400 GBP.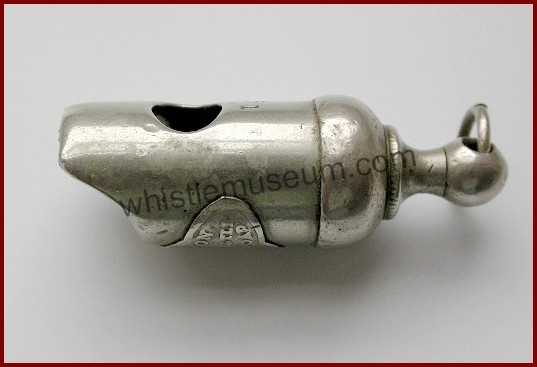 Stevens & Son early antique Railway 'Signal whistle' #1,  beside a TNT  Guard whistle   w. screw Mouthpiece for the London Brighton & South Coast Railway Co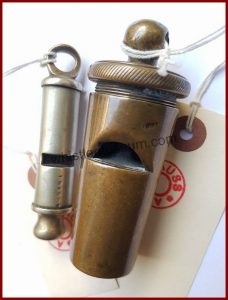 Postlude Part A.
Stevens & Sons, James John Stevens, son of Founder, His Two sons sitting and Mr. Deakins the engineer, extrem right & Deakins Jr. at Darlington Works in 1865 Photo.
I would like to thank John for help with some photos and P. Owen for some of the info.
The article was conceived in 2015 – 2016 upon discovering two previously unknown whistles by Stevens and more later .
Stevens & Sons 100 years History of a Whistle Maker & His Whistles 1806 – 1906.
A. Strauss 2016  Part A. (Excerpt from the full article)
Article by A. Strauss, all rights reserved 2017. Please do not use photos and info without reference.