Stevens & Sons Bell whistles, PART D. (To part A)
Francis  West ( 1789–1867) Was the inventor of the Bell Whistle. ( 2017 News)
Located at 83 Fleet Street London, 1829 to 1845 (some say 1850), In 1836 He used 'West Inventor' on Improved stanhope  Lens, (See photos), lens Made in Brass in German Silver & Silver. In 1839 he invented the Camera and also was a Publisher Optician and a man of many talents; a noted microscope maker, toy maker, and publisher. In 1939 he advertises a Fox Talbot 'heliographic camera' in The Mirror, the first camera to be offered to the public.
Is seems that the bell whistle was invented by him in the late 1930's.  It is first mentioned in a book written c 1847 as "The Acron whistle(Bell Pattern)"
(See Part A).
Here are 3 bell type whistles, Invented by F. West  manufactured by Stevens & Sons, West probably sold these in his shop on Fleet st. In general  these are miniatures inspired by the large steam whistles used on locomotives of early Victorian times.
3 Bell type whistles believed to be made by Stevens & Son,  Though no whistle with his name was ever seen, but one may read about the possible reason here.

Note the one in the middle shows the same stamp I had found on his stanhope lens, WEST INV.  as Inventor, The other two stamps do not have the CROWN and are WEST LONDON. Trying to figure the difference, I thought this stamp may had been used later by his 3 sons Francis Linsell West (1820-1884) Henry West, (1825 to 1899) and John George West (1819-1873), all noted opticians and manufacturers of optical instruments who shared the rights of some of his inventions after he passed away. It may as well be that West changed his stamp.
Mr. West had also designed and made toys he sold, toys which corresponded to ones in a book he published about Intelectual Toys for the young.
(Mercantile Journal Feb. 1, 1831 review) .
In the late 1830's Mr. west was building models of Locomotives as well,
and he had been inspired by larger steam whistles used at the time.
The Stanhope lens Microscope & Original box

The Stanhope lens Microscope
Here is the top left one West , London taken apart, (From the collection Mr. Piett Visser).

A catalog page of Shand Mason Fire Brigade Equipment c. 1885 shows a bell type whistle ( Fig.5 ) which was made in the early 1880's, It may had been made by J. Hudson & Co. who seem to have supplied most of the other whistles in that catalogue and it may had been made by J. Stevens & Sons.
Fig. 5 Bell whistle "Silver Plated Bell whistle with Ivory Mouthpiece treble chain & Lion's head ornament."  W. G. & J. Hawksley made bell type whistles,  Known from single example that showed up on eBay few years back, but these were of a different design. Similar Bell whistles were also made in France and in the U.S.A
Here is a J. Hudson & Co. Made Bell whistle, It was in the collection of Hudson, presented  at Acme Whistles  Ltd. Vitrine which at the time I took photo of  (2006) was in their conference room , I bring for comparison, note the pillar top, mouth piece is made of GUTTA PERCHA and not ivory.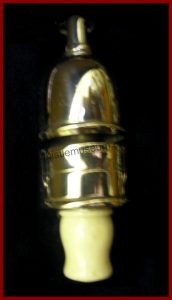 Stevens & Son, 83 mm .
Bell whistle with acorn top. stamped "SEAMAN" by J. Stevens & Sons, from the collection of A. Kipping.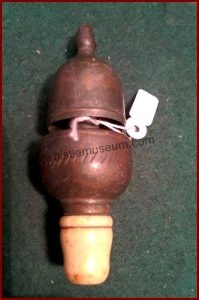 Four Bell Whistles by J.Stevens & Sons, Made in few sizes & variations of top, Body. Mouthpiece and size, some do not appear among the 8 photos here.
The small one for comparison, has a 50 mm body and overall Legnth is 66 mm.

1rst. Left Legnth: 85mm Weight: 75 gr
2nd L: 66mm W: 28 gr
3rd  L : 74mm W:68 gr
4th  L:  88mm W: 99 gr
Below the first one from left in 4 parts.

Most of the ones I have checked produce a high E note, the smaller ones produce a higher pitch note (F#) They all have to use a hard blow to produce sound.
Similar whistles were made in France, some were used as Bird Calls,
Unlike English and USA made ones, they used Horn Turned Mouthpiece.
Over all I have observed about 20 different models.
Tops vary, albeit Loop top is the most common, albeit I can see Ball (Bubble top)
Pillar Top and Acorn top, used on rare examples.

The last one is an original Bell type variation made by Jimmy Guttrige, from the U.S.A. It is much larger and heavier, app. 16cm and one of the first of many variations he very skilfully made and designed.
Article by Avner Strauss, all rights reserved 2008 last edited 2017.