Dixon & Sons History and whistles in the 19th Century.*
PART II. a. ( See Part I  and Part I.a.)
Dixon & Sons  Conical Whistles, Beaufort type Whistles.**
Underconstruction 
It should be noted that all conical whistles which many call Beaufort type, were classified as RAILWAY whistles in the 19th century Dixon catalogues.
TWO WINDOWS FLAT DIAPHRAGM MODELS
Model # 43 & #43S Railway whistles with Ivory Mouthpiece were made for MANY years. These are listed in the 1883 price list.  We should try to date the earlier ones. 

Early stamped examples include stamps as "Swain & Co. London"
Model #43 (Formerly of the Gilchrist collection)
Length: 88mm
Here is another Stamped "Swaine & Co. London"
without mouthpiece, It is logical to assume this type or a very similar one was first made without a mouthpiece,
Swaine & Co. (1798 – 1825) stamp was used up to 1825 according to some sources,
They were selling whips which Dixon was also well known for making. Some models combined with whistles, will be discussed in a next paragraph.
The company various partnerships and dates is well documented, BUT I still
have doubts weather this was made Pre 1825, and that would mean it was made by Dixon & Co. Pre Dixon & Son (Singular) Though it is possible since we have records of Dixon documenting the possible London 'high end' retailers in 1822
"1822 – diary records priority of "finding customers and keeping them satisfied" thorough record keeper – many London customers – and an address in Covent garden – Sheffield to London by stage coach – "nothing should go out of the factory bearing his name that should disgrace him"  quote from the book
"Made in Sheffield – The Story of James Dixon & Sons – Silversmiths – by Pauline Cooper Bell" Pub. 2004)
The next whistle stamped "C. Parker, Late Merry Parker & Merry" shows that these were made pre 1849, see C. Parker article here. 
Lately a Conical whistle stamped Wilkinson & Son, (Pall Mall ), a London Fire Arms & Sword maker surfaced, it is 55mm and has a presessed mouthpiece.
I did not have a chance to examine it closely but it seems as it is likely to have been made by Dixon around 1820 to 50. 

Later Wedge Diaphragm Models
Some where c. 1840s, 1850 (Exact date in not known) Dixon started using the WEDGE DIAPHRAGM (A Triangular shaped diaphragm of two kinds, Cast and Folded) so all the next example have a wedge diaphragm.
Model # 20

Model #20 was made in 3 or more sizes.
The next two conical whistles; Two notes Beaufort whistles made of German silver Length 69mm, both stamped; "James Dixon & Sons Sheffield". The word Sheffield was entered in their stamps in 1851 according to some sources,
So if we want to date, we have to find when was the name James dropped from whistle stamps, I would think it is circa 1878 with the new logo registered,
so we can safely date these to 1852 to 1878.
Interestingly the right one has the stamp facing the top, (Dan Wood Collection).
Four Dixon & Sons Conical whistles,

Left: 70mm
Center left: Sterling Silver hallmarked JD& S Sheffield 1899,
This silver hallmark was entered July 1867, The earlier silver hallmark
is discussed in part Ia round whistles. (Soon to be posted).
57mm, weigh; 31 gr.
Center right : 55mm small FLAT LOOP or 2.71 mm wide wire.
Right: German Silver, 52mm
Notes: 3 kind of tops, The Flushed pillar top can be used to identify DIXON's work, it appears on round whistle Model #10 .
Dixon was fond of SMALL WHISTLES since early days, and some Beauforts were made in as many as 6 different sizes.
The Seam is centered between windows in some, uncentered in others.
All but the small one have 'CRIMP RINGS' above and below window,
and a crimp ring at the top (except for the center right).
Next is a domed top German Silver with original case, domed top & a wire loop, two notes with 3 crimp rings. * (See diclaimer note). 

Length 55mm, Probably made in few sizes estimated to be c. 1850s, 60s. will update soon. Note the rare domed top, I try not to use the word rare as much as possible, since the word rare is over used as well as Mega rare etc. but many of the whistles shown in the articles here are known to have only one or two examples which surfaced, so we can safely assume that there are many which had not yet surfaced at all.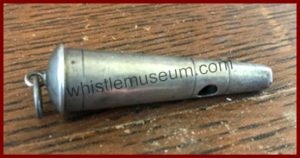 This model was made in 6 sizes.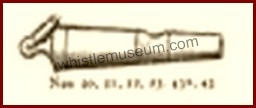 Note the top round ball or bubble shape over an elegant stem or neck, it is a classic Dixon top and repeats in various round whistles, albeit it was used by T.Yates and few German Makers, ( I will elaborate on that in another post).
Above Model # 20, Length; 83 mm, one of the 6 sizes of this railway model.
The Stamp of 1878 onward registered 1879 was made of two stamps one with the Trumpet of over banner and one stamped on the other side "Dixon & Sons".
Next are 5 whistles by Dixon in the Sheffield City Hall.
Left & Center show this model, right is Model #43S (See top of article)
2nd left and 2nd from right are Models # 22 Copper with Metal mouthpiece,
and Model #23 Large
The next two are 'curious rare birds' never seen before, (Thanks to Dan Wood)
A Large, 115mm,  Pair of Beaufort whistles with extra CAST MOUTHPIECE modified to fit an air pressure alarm or railway communication  device.
I believe these are1870s, and may even be Reuben Lyon 1874 device, but this is just a wild guess, I still know very little about the subject of speaking tube, voice pipes,  ships communication whistles, air pressure alarm whistles, I think these started c 1836 after some train boilers exploding and causing tragic accidents, I recall an article I wrote here about the 1849 Wishaw's Registered Design and whistles made to fit his 'telekouphonon' with few examples made in the 1850s, that was 10 years ago and many more intriguing whistles came to light but still very little information on this very wide subject to be researched, one thing
can be noticed about all this types is that they are made to fit into a larger external piece. Here is text from Robert G. Maggs book "the Branch lines of Somerset Pub 2009. (Thanks P. Owen for turning my attention to Lyon)
Next are two more TNCW with uncommon features I had not seen with Dixon's whistles before.
A large Conical Bicycle whistle Engraved  'Won at Gloucester by the C&N.G.C.C Cheltenham and North Gloucester Cycling Club 1883'.
It has the Dixon characteristic flush top pilar BUT this one has a beautiful apple shape mouthpiece.
Conical whistle with half domed – half moon window heavy wire loop top, body;61mm total length; 75mm (Jim Fitch Collection)
The wedge diaphragm as seen through the blow hole in the last whistle. 

The various types of Wedge diaphragms in TNC whistles is an interesting subject.
This is another part of a very long article, I would like to thank few collectors for their help, Pete Owen, Craig Busch, Jim Fitch, Whistlecollection, and Leif Bailey.
Other parts to be updated soon.
* Disclaimer:  It should be noted that some of the whistles discussed here do not have a stamp and therefore can not be definitively attributed to Dixon how ever, they are assumed to be with relative certainty based on my extensive research and familiarity with whistles.
** Following the development of Conical whistles & many variations since late 18th century; single note conical, short single note, two windows single tone, two notes, cased short single tone,  etc. etc. I use SNC for single note conical and TNC, as abbreviations,  I would think including all under one tittle as 'Beaufort' does not serve it right, now that we have a better idea of the many kinds and the history of the conical type whistle's History developments & timeline, a long article about these is in the 'oven' and long over dew. On the other hand I am sure keeping it simple has advantages. well comments are welcome.
Avner Strauss 2017, all rights reserved. info@avnerstrauss.com