James Dixon & Sons Round Brass & German Silver Round Whistles (Part I.d.)
A. Strauss

After the First Early period 1800 to 1835 and later up to 1865 which was reviewed here with early examples I  move forward to look at some more German Nickel or Nickel Silver & Brass whistles, not it in chronological order.
Cracking the general early date code of whistles in the article about Stevens & Sons was a Benchmark, which enabled a clearer view of another giant whistle maker – Dixon & Sons. At the top a whistle which had been made by James Dixon the founder himself. (See next Paragraph).
SIGNAL WHISTLES 
Signal Whistles is a term I use for all round whistles with stop hole, finger hole.
First is a Dixon & sons military whistle with a stop hole 'Notched Crown' window which was used by Dixon & Sons and can be as a single identifying feature.
Not many dixon's made with stop hole.

The stop hole use with military whistles started C. 1860s  and was extensively used in the 1870s and later up to WWI , later it can be ascribed to Scouts (Post 1909) , so up to that time a stop hole can be used to ascribe a whistle to military functioning. (It was so in France and Germany, and Eastern Europe).
Many round pea whistles from the 1860s to 1910 with identical size and design were used for RAILWAY and FOR MILITARY, we can distinguish between the two by THE STOP HOLE ! (An article about these is in the oven*)
The history of whistles for signals hundreds of years back to marine boatswain's whistles, and ancient times . Fife & Drum and here some nice engraving from the 16th century; Long Military Flutes of the Sixteenth Century.
Another related subject is the Evolution of Military Bugle in the 19th Century 
also  one may note Richard Porteous Regimental Field pipe, c. 1832. 
Whistles were smaller and more convinient for every one.
A later model of a round whistle with stop hole, made in the later part of the 19th century, German Silver, 59mm. This type was popular in Germany USA Eastern Europe & France, (Baduel Military whistle of the 1870s), Later it was adopted by Police forces in Latin America (Argentina).
As a Rule whistles with stop holes did not include pea.


Signals for the Whistle. 
Here is an early English table (1870s) of the military code for transmitting orders via whistles , These or similar were used in the European Armies; France, Germany, Russia, and in the USA during the 2nd half of the19th century. 
Cast fipple with "pip" (see next paragraphs) above "diaphragm" part c 1840s, 1850s. The top has a drilled hole for ring, but the design of the Acron top is still reminiscent of undrilled tops fit for knots, and earlier none drilled Acron top finials.
A simple whistle using cast Britannia metal or Pewter & Brass.

Next, a highly ornate gun-metal whistle, a masterpiece with extra fine milling, Individually made, Three lines of milling to the body and extra fine milling to base of top finial. Early Sheffield fipple – ZIGZAG fit in, (see next close up photo).
First period 1rst generation, early 19th century, No drilled top as well, Note the 'inverted' window shape, dome of window facing mouthpiece.
Machined out of one piece rod plus a fipple.
As with other whistles of Gun Metal, Gun metal hardly shows any patina, unlike others. Over all a work of  OUTSTANDING craftsmanship.

A close up of this 'Sheffield Fipple' newly discovered  & discussed in a previous chapter; 
Just as J. Stevens & Sons  J. Dixon & Sons were fond of screw TOPS , (Stevens was fond of screw Mouthpieces which Dixon did not use)  and T. Yates used both occasionally (very few).
Here is a nice example with a rectangular window ( mostly used by Stevens)
but it has the cast "pip" (See one of the next paragraphs) as part of the one piece fipple, made only by Dixon, and the typical dixon finial which I did not find a term for but has a very distinct elongated finial shape.
Nickel plated brass 1860s, 70s,  Length: 61 mm

J. Patstone with Tooth grip, a later model with added tooth grip 1870s
stamped 'J. Patstone Southampton' tooth grip was added for Bicycle riders or Hunters, I seem to recall Patstone retailed bicycles as well, in the 1870s,
see details in next whistle). A tooth grip was a feature Dixon rarely used in his metal whistles.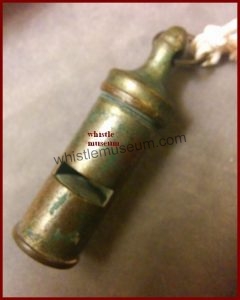 Here is the same whistle, well polished, again stamped on the side;
"J. Patstone Southampton" (Collection of Craig Busch)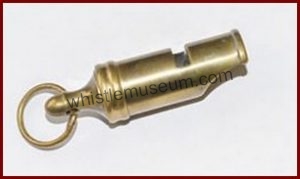 John Lewis Patstone, (1843 -1915 ) a Gunsmith, Gunmaker and retailer of firearms, since 1860, (1860 to 69, 8 Love day st. and 5 Whittal St. 1865-69).  Patstone the founder died 1915.  Later J. Patstone & Son,(George Edward Patstone) 25 High St. up to 1926. Name changed to Patstone & Cox, who were in  Business until 1880s.
Two whistles made of German Silver – Nickel Silver, The right one has the
Flat – flush pillar for finial and the right a grooved bubble top
Both have a special design, unlike any others.
Two that justifies Dixon's name as maker of Highest Quality items.
Left, Length; 40mm  Right; 47 mm.
Model # 47, Oval  shape, Dog call made of Nickel plated Brass, late 70s,
early 1880s, Shows in the 1883 Catalogue. not the classic Ball finian top. 
Length; 39mm.
1860's, two whistles the right one is silver discussed in a previous chapter is from 1865 the left one is a screw top German Silver, of similar size & probably period.
Side view of the above left whistles ; nothed window, screw top, and ball finial extra ornamental tip. ( Self tip was the term used, see horn whistles part) 

The milling to the top was functional to allow opening the top, for cleaning and for pea replacement, later it was adopted as an ornamental feature.
Small round pea whistle made late 1880s , and 1890s model with a "Notched Crown" window and a ball top, This model was made in 2 sizes, Nickel Silver.
Pair of smaller, 35mm notched crown window.
Two small size Dixon & Sons whistles the left one sneaked in..

Right, one of Dixon smaller whistles, L; 33.5 mm. Center, L; 41mm.
Both made of German- Nickel Silver
Round "Pig Nose"' Whistles – terminology & construction
A longer article about "pig nose" Whistles by various makers is to be published.
First of all "Pig Nose whistles" are round pea whistles with a
different fipple. I say this to explain to none collectors after seeing round whistles wrongly described as Pig Nose Whistle.
Round pea whistles with a "pig nose" fipple, this feature had relatively, a short life span, and these whistles- fipples were  point to early 1870s, to late1890s.
This is to be elaborated in a coming article.
We do not know who was the first maker of these but I suspect it may have been Dixon.
Photo of a split fipple that makes a round pea whistle, a "PIG NOSE"

I was the one who coined the term "pig nose" may years ago to describe a whistle that has a split tongue-fipple. I can not be absolutely sure but I suspect this is the case since English is not mother's tongue and a native English speaker would have probably used the word "snout" rather than "nose".
The original description of these round whistles under 'dog calls' category in the Dixon's catalogue of 1883 was:"British plate, two hole, Ebony tongue"
Martyn Gilchrist in his books referred to these as "Two holes wooden fipple " That particular one as some others here were formerly at his collection.
Model #51 Large, 1883 Catalogue, "two hole ebony tongue". A high end Model priced way above most models, And this one is probably a better than the standard model, see next photos (No milling) . A Ball Finial and 2 rings of milling to body.
Side view of the above whistle Length; 62.5 mm, W; 42 gr.
Group of 3 other round 'pignose' whistlesFrom top
Top : L; 59mm, W; 41 gr Mid 1870s or earlier. Milled rings on body,
Probably Brass.
Middle; L; 55mm, W; 34 gr.  stamped with on sides, post 1879, Nickel Silver.
Bottom; L; 56.5mm, W; 28gr Stamped on sides so Post 1879 post 1879, Nickel Silver. 
A very close look would reveal another unique Dixon feature !
which is the domed extra piece above the lower window sill, Other whistles have a straight cut. This feature creates a "smiley" when held top down.
I used this angle to show the whistles so this feature I discovered can be seen better. The top whistle is a very old early one.
A Group of 5 round whistles.

Left has a "Sheffield window" discussed here in next pargraph.
2nd left is another with rectangular window and a 'pip' which can be see in the next photo.
The other 4  all share a 'pig nose' wooden fipple discussed before.
THE "PIP" IN THE WHISTLE, A UNIQUE DIXON FEATURE.
The "pip"  was a small piece, serving two purposes, the pip was part of the fipple a bump, protruding out of the fipple block above the flat part which was later called diaphragm.
It was used only with metal whistles which had circular cut mouthpiece.
This "pip" can be used as a single identifying feature for Dixon's whistles.
It can be viewed by looking through the window, It was made in order to strengthen the upper mouthpiece lip and prevent it from caving in.
It was a short piece which did not go all the way to the blow hole, As in pig nose fipples.., It did serve to split the air stream coming out of the blow hole and thus
when having two air streams helped preventing the pea from getting stuck. !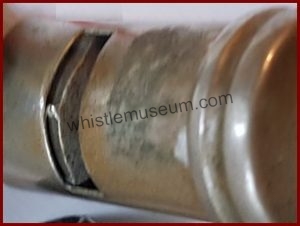 Here are two Brass made whistles by James Dixon, Identified by the "pip"
and top finials, not  'Acron Top' but rather elongated and short half-finial, both share a circular cut mouth piece and as said  pip was not used on a any whistle with "Sheffield Fipple". Both with metal fipple and pip.

                                       Left, L;54mm. Right, L; 59mm
The Sheffield Window
The "Sheffield Window" is very rarely seen on whistles which are not combined with an extractor – cartridge puller, or other combinations.
I call it the "Sheffield Window" since it was used only by Dixon & Hawksley's.
It does use a window design which can be described as having
straight sides 'supporting' an arched window. same whistle 3 angles.
Acron top finial, a "Sheffield Window and a "Sheffield Fipple". L; 61.5 mm

Next is a highly stylized early model, screw top circular mouth piece, and a unique top.
Model #30 appeared first in catalogues in the 1890s But may had well been earlier. The catalogue offers it in Britannia metal.
Here is a close variation of model  # 30, In Nickel Silver, stamped Dixon & Sons with Trumpet & banner on the other side.
This later model appears in the 1890s.
Additional whistle
The earliest large round whistle of this type, is the Heaviest, a very heavy one on the scale of 1 gram per 1 mm, 59mm a standard Dixon Size, but weighs 58 grams.
It is has a wooden fipple with domed side which can be seen through window.
It is a Dug whistle which seems like Bronze or reddish brass made.
Two crimp rings on mouthpiece and a large "wide neck" ball top finial.

Last Example
1882 Winchester rifle bullet whistle has the Unique 'Sheffield Window'
of Dixon and Hawksley. Heavy and very well made cast brass fipple.
See stamp;
Winchester = W Rifle =R 7= July 82= 1882 winchester made, This would be Leading to Extractors & Shooting Gudget whistles made by Dixon. 
Special thanks to Craig Bush, Bruce rolph, Dan Wood, Leif Bailey,
Jim Fitch & Pete Owen.
James Dixon & Sons Whistles & History In the 19th Century. A. Strauss
Full article is in 9 sub-parts. 
Part I (6 chapters)
1) Brief History and data (19th Century)
2) Early Period Round Whistles and 'The sheffield Mouthpiece & Fipple' I. a.,
3) Round Ivory & Horn I.b.
4) Animal Head Whistles, I.c.
5) Round Brass & German Silver Whistles. Signal Whistles and 'Pig nose' Whistles
I.d.
6) Round Britannia Metal Whistles & Model #49. Part I.e.
Part 2,   More whistles by Dixon & Sons, including
7) Beauforts,
8) Extractors, combination whistles, Shooting Gudgets and other combination whistles. II. .b
9) James Dixon & Sons Other Rare Whistle Models & Designs. II.c. 
Article, Photos and content by Avner Strauss, all rights reserved ,
no part of this webpage is to be used without the explicit permission of the owner. Email : info@avnerstrauss.com
Comments & question are welcom.
Whistle museum.