Part III a (See Part I & II William & George Dowler
History and Timeline of 'William Dowler & Sons' Whistle, Button & Military Ornaments Manufacturers. In 6 Parts.

Intro
This article (Part III a) focuses on the Birmingham Whistles,
Military Ornaments and Button manufacturer William Dowler, later 'William Dowler & Sons'. It is the continuation of the first article, and an on going research of 15 years, some of the first finds were posted here in 2008 and in the Wikipedia
and in 2015- 2016 a revised article about the family which established their business in 1776.
See Link, William & George Dowler which presented
the family's history and work.

George Dowler had the bigger manufacturing plant and
manufactured whistles which were advertised but not identified to this day, continuing the family's plants & manufacturing business up to 1870,
it was 'Willian Dowler' who was the bigger Whistle manufacturer, He started working independently in 1853 and took over the family's assets in 1876.
In fact seeing the whole picture we can say that since 1853 William took an independent path and only in 1876 after legal fights gained control of the other various family plants and assets which George was running up to 1870.
Thus between the years 1853 – 1870 There were two different manufacturers;
one is Dowler – Birmingham, the other W. Dowler -Birmingham.
For convenience and coherency, I divided the whistles to 6 periods indicated by their different stamps addresses and whistle construction.
(These should work well for Buttons stamps as well although whistles stamped Dowler Birmingham, were made by George Dowler and the ones by William Dowler stamped W. Dowler)
The described timeline suggests a new understanding and observations
of William Dowler's whistles (and buttons) production, as well as serving as a general guide to dating these by 6 periods.
[With that said it should be noted that previously Books & Scholars set the date of W. Dowler to have started producing Two Note Tube whistles (TNT) known to collectors as G.S.W – General Service whistles in 1886 which stands in contradiction to my research, and suggested Dowler did not make Round Pea Whistles].
The article identifies William Dowler as the first to produce whistles for the police forces ( *Foot Notes).
We start with the main 6 Periods (# 2 Being the longest Period of about 30 years)
of the company, and later discuss whistle types, Stamps, & components with more
details and to be expanded later, and as time permits more photos. IN PART III b
to follow.

William Dowler was born on 4 September 1813 and died on 1 December 1888. He was the son of Joseph and Hanna Dowler (born Hanna Ancell),
& the older brother of George (B.1824), William married in 1850 and lives in Soho Hill. They had three sons Thomas, Arthur, and Austall, the first two were to working with their Dad and later since 1866 name changed to Dowler & Sons and they continued running the company after his death in 1888.

A GENRAL GUIDE TO DATING W. DOWLER WHISTLES BY 6 PERIODS*

A Chart of Stamps time line for quick identification.

A general preview of periods by Stamps, To be expanded with whistles and more details as to construction, types and other details, in part III b .
See important footnote,***

First Period, 1853-1856
The address of the plant in this period is 42 Cherry St. During this period, William Dowler is in partnership with the Parker family (Marry Parker), a partnership which started in 1853 following the death of Charles Parker in 1852.
The stamp in this period is 'Parker & Dowler'.
Up to 1852-3, William worked as a traveling agent, supposedly for the business of the Dowler family & for C. Parker when he was still alive.
Note that during this period William Downer's name is often misspelled in directories as W. Bowler or W. Downer.
Between 1853/4-1856, the business continues to produce metal military accoutrements, using the production line left behind by Charles Parker.
On 23 December, 1856 Mary leaves the business, officially disbanding the partnership and leaving William to continue production by himself at the same address, William will remain in this address until 1880.
Second Period, 1857-1885
In photo; 2nd Period Oval stamp up to 1885 -6 since unknown date post 1857
In 1857, under his name alone, William registers the business in the same address for the 1958 directory. He advertises himself as a railway whistle & button maker, and as a WD (War Department) certified manufacturer.
During this period, stamps did not include an address, but were simply 'W. Dowler Birm', or 'Birmingham.
[That said, it is of course possible that a stamp indicating the address '42 Cherry St' will surface in the future, just as a whistle stamped with J. Hudson's first address, 'St. Marks St.', came to light only in 2020].
This period is divided to two sub periods by address,
THE STAMP appears as a single stamp or along another stamp of a Police force.
In 1880, William moved to 94 Great Charles Street and employs 27 employees.
He is using a small oval stamp; W. Dowler Birm. between the years 1880 to 1885 but he had been using it before since a yet undermined date.
The stamp remained as it was although the address had changed.
One whistle may be the exception
No stamps of W. Dowler Birm. with this address is known on whistles.
Third Period, 1885-6-1900
In Photo; 3rd period typical Dowler ellipse stamp DOWLER & SONS 94 Gt. Charles St. Birmingham. 1886 to 1900 The stamp may show along side body or across and with
a force name on other side or below. At times it may show a variation with a retailer's name following the same ellipse design.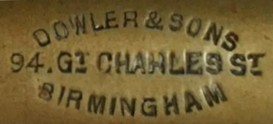 The business becomes Dowler & Sons, and for the first time the exact address is included in the stamp (94 Great Charles Street, should be noted that this address was used by other members of the family at least since 1776) This will be in details in another The chapter to be posted in future, about the family and George Dowler).
In 1 December 1888 Dowler dies, age 75, and his Will leaves the business with two of his sons, Thomas William Dowler & Arthur Patrick Dowler which were involved in the business before.
It should be mentioned that at this time Alfred DeCourcy, a brilliant whistle maker
and later an important whistle maker leaves his work at J. Hudson & Co. as foreman
where he was employed from 1882, and some say he may had become a foreman at Dowler. 'The Decourcy Touch' is present (In my opinion) in some of Dowler's stamped whistles, and eventually later he was filling orders for them in the Fifth period.
During this period the business thrives, and produces some of their best whistles.
In 1893, they register a silver hallmark, WD&S. There were two more silver hallmarks registered with the Birm. essay office but I was not able to yet.
The other one was Wm.D& S was observed on a 1891 cased SNC whistle.
Fourth Period, 1900-1904 – Graham St. Works
In photo; 4th period ellipse stamp 1900 – 1904 GRAHAM St. WORKS
In 1900, the business moves to 69-70 Graham Street, with the stamp
(an elipse shape or oval one) now showing:
'Dowler & Sons, Graham St. Works, Birmingham'.
Some time in 1904, the business is registered as a limited reliability company and the stamp changes to 'Dowler & Sons Ltd', which is also how the business name appears in the 1905 directory., so the listing of Ltd. was entered sometime before November 1904.
Around 1905 Dowler & sons reduced their own whistle production and outsource this to other Birmingham-based Companies, First with De Courcy
which in that year started stamping his whistles with his Frankfort St. address,
and then only in the 6th period with Hudson as well.
It was at this period that Dowler started using his :
COMBINATION OF TWO STAMPS
A LARGE OVAL STAMP WITH A LINE IN THE MIDDLE (For Force name) +
THE ELLIPSE SHAPED STAMP WITH THE COMPANEY'S NAME
in opposing directions.
All whistles of this period with TWO STAMP COMBINATION were
made by Alfred De Courcy.
THE COMBINATION OF TWO STAMPS HAS
The ELLIPSE SHAPE DOWLER STAMP CLOSER TO THE TOP AND FACING IT
and without Wm before Dowler !

Fifth Period 1905 up to c. 1910 * (To be verified may had been a year earlier)
This period whistles are stamped Dowler & Sons Ltd.
Most of the whistles are manufactured by A. De Courcy with some rarer ones
made by Dowler & Sons with Ellipse stamp Ltd. probably in the earlier part of this period (See stamp).


Sixth Period C. 1910 * To WWII

At this period Dowler completely abandoned the whistle manufacturing part at their factory and ALL are made either by Hudson or De Courcy.
The Stamp changes again approximately between 1911 to 1913 (But might be earlier and needs verification) The company stamp changes to
Wm. Dowler & Sons Ltd ONLY on J. Hudson Whistles made for Dowler,

In this period J. Hudson & Co. Started manufacturing whistles for Dowler as well, ALL STAMPS OF WHISTLES MADE BY HUDSON for Dowler carry the POST 1911 -13 Stamp Wm. Dowler& Sons Ltd with Wm. before Dowler.
Full stamp is: 'Wm. Dowler & Sons Ltd. Graham St. Works Birmingham'.
While De Courcy kept using the older stamp without Wm.

1911 was the earliest (So far) we found the new stamp, (Though a certain whistle is still in question),

J. Hudson & Co. started supplying Dowler with whistles stamped with
combination of two stamps whistles made by Hudson shows the FORCE NAME OVAL STAMP CLOSER TO TOP and Dowler's Ellipse stamp below closer to the windows and as said Wm before Dowler & Sons Ltd.
THE STAMPS CAN BE USED TO IDENTIFY quickly which one made the whistle for Dowler and when by period.
When adding to this a careful examination of the components of each whistle;
TOP, CAP, LOOP, MOUTHPIECE, DIAPRAGM, PATENT DATE of each maker, we can date the whistles more accurately, at times by the exact year or two made.

Their name still appears on whistles made by J. Hudson & Co. up to the 1930s 40s.
The business remains at the same address at least until after World War II, when they move 11 Brearley Street (11-15 Brearley) In 1969, they were bought and merged with Firmin & Sons, though they continue using their own address, stamps and name probably for tax purposes. In 1999 they still appear in the directory as located in Brearley Street. Today, they appear in the Internet as 'W. Dowler & Sons Ltd'.
In Photo; 'Wm is added to the ELLIPSE stamp now 'Wm Dowler & Sons Ltd.
Graham St. Works Birmingham'.
Whistle TYPES made by Dowler & Sons

Whistle TYPES made by Dowler & Sons

Dowler Produced a large variety of whistles,
here are the 5 main types, his main output was of
Conical whistles and Two Note Tube (TNT – GSW) whistles.
This is a more general preview to be continued in a more detailed
review of each type as well as whistle parts, Retailers, Police Forces,
and construction, – parts.

1) . CONICAL WHISTLES (or tapered Double notes as called at the time made
mostly known to collectors as Beauforts)
made by Dowler are of TWO MAIN TYPES: A & B
T.N.C – Two notes conical whistles (Type A) & Single Notes (Type B)

TYPE A – TWO NOTES CONICAL – T.N.C

A being The Standard bubble top first manufactured by C. Parker.

a1 – Cast domed bubble top & cast M.P

a2 – Cast Domed bubble top top (Spherical Knop)

a3 – Smaller with tooth grip made for Worcester County Constabulary (W.C.C)

a4 – A Hybrid design with Cast Mouth Piece M.P and Crest Button top
(Hiat Reg. Design No 225730 from 1894)

a5 – A smaller thin walls type late 3rd period made for Military with
a unique stamp; W. Dowler & Sons Birmingham 1898 in straight lines.

TYPE B SINGLE NOTE CONICAL – S.N.C (See two examples in photo)

B) Short Single Note Conical whistle – SNC Two variations
(THIS DESIGN Short first manufactured by C. Parker.)
Type B – has a 'BEAK' TYPE M.P as in ROUND PEA WHISTLES
& a Cast Fipple. (Some may refer to it as Round Tapered – Conical Whistle)

b1 Short CASED Single Note Conical Whistle with beak or without
and a spring to its back. Traditionally used with British Army.
(Includes Silver Hallmarked ones)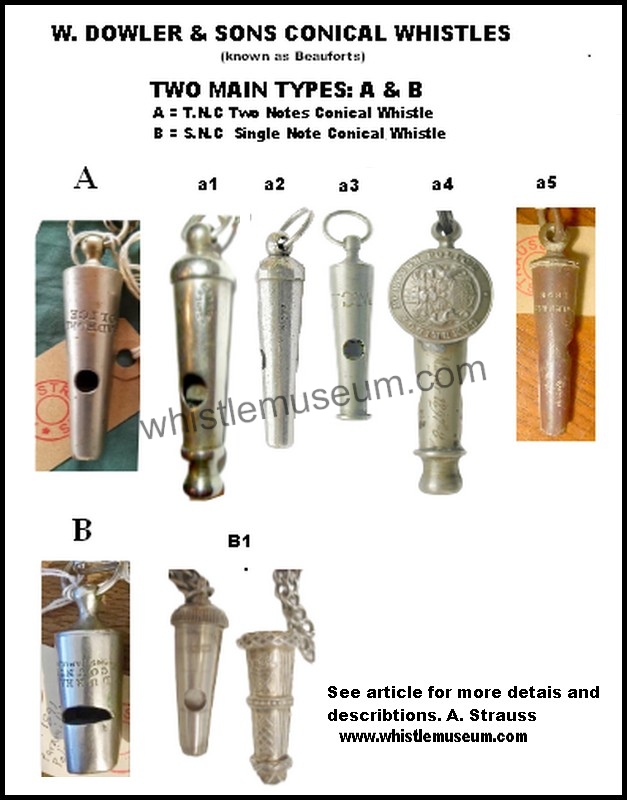 The whistles in photo are arranged more or less by their order of their first appearance in each type, Albeit in Type B preceded Type A in Time line.
Type B appeared in the 18th century and with a cased version (Not Shown)
late 18th century , type B 1 C. 1829
Note – There may well be a Type A with additional mouth piece, and
type A with Ivory Mouthpiece (M.P) when available I will add.

a5 – A variation in Nickel plated brass, 1898 Military, unique stamp W. Dowler & Sons

2) TNT – Two note tube whistles (GSW – general service whistles by function)
Including ones with Bulbous Porteous top, and many variations.
of Mouthpieces and Tops, loops, and some with a single known example.
William Dowler Produced his first TNT whistles in the 1860s, The first photo is of a
J. Stevens & Son, Pre 1865 (See previous article about Stevens & Porteous whistles)
TNT whistle on left & W. Dowler on right. Dowler made his earlier 1rst period model after Stevens & Porteous Models. Both of Dowler models of TNT one with Porteous Top (After Stevens Model # 27 ) and his two notes tube whistles were 'Inspired' or copied by Dowler.
Three small groups of William Dowler & Sons TNT Police whistles displaying few of the many dozens reviewed for an upcoming continuation, These include 4 periods in which Dowler & Sons made whistles on their own.
Left to right; H. A. Knox, Knoxall Police Call, made by W. Dowler, Early 1rst Period Dowler Porteous top TNT after J. Stevens and Son Model # 27, Early Dublin Police Bubble top TNT and crimp ring to Bubble and M.P
Other stamps & models are The International, Knoxall police Call, and some dated Military whistles, as well as retailers stamps.

3) Round Pea Whistles (Railway)

Two early 2nd period W. Dowler whistles for N.E.R, Left long neck acorn top type, center cast dome bubble top and on right a later one 3rd period by Dowler & Sons with Loop top and tooth grip.

4) Button Whistles, escargot type with Button Sides.

Left to right; Top left Bradford City Whistle, Bottom left a GPO General Post Office whistle, center a family crest, Griphon, right attributed to Dowler 'Superior Quality' Buttons made 1861 -65 by Dowler during American Civil War.

5) Double end Whistles.
Double end whistles (At times refered to as Composition whistle, Hybrid whistle & Torpedo whistle) made of a round pea whistle & a TNT, stamped Dowler & Sons
Gt. Charles St. Birmingham (3rd Period).
Foot notes

1)
I highly recommend reading Martyn Gilchrist & Simon Topmann book
'Collecting Police Whistles and Similar Types' Known to collectors as CPW book and published in 1998, and the book 'More Whistles' by Gilchrist, to those with serious interest in the history of whistles.
I also recommend reading in other whistle blogs as ones of Whistlecollection, Whistlegallery, as well as whistleshopUK and worthpoint both have many of the Dowler whistles sold on eBay over the last decade.
2)
While J. Stevens & Son produced THE FIRST design of the two note tube whistles
(Porteous Design) Model #27 Pre 1865, Dowler was the first to produce his versions of similar ones with minute changes and supply these to police forces.
As far as I know he was the 2nd to produce TNT whistles.
3)
Regarding the Period Division, This is an on going research and the exact year & month at times are important so some periods may be 'rounded' by one year earlier or later, either dew to cautiousness or luck of a valid proof, this is something I still work on refining. Some of the periods may change by a year at time depending on a certain month.
I did my best going through hundreds of whistles and stamps If you do have
you do have comments or photos which may help kindly send an email or
join the Antique whistles Ancien Sifflets on Facebook.
4)
The term Beaufort is used for many types of Conical Whistles,
Two Notes Conical Whistles TNC, Nick Named Beauforts and known as Tapered Double Tone at their time. I separate two main types but the are more and named them THE TWO NOTES CONICAL – TNC. and the
SINGLE NOTE CONICAL WHISTLE – SNC.
5)
I was hoping to include many whistles, but as it evolved to many dozens of photos
I postponed part III b which evolved to be a much larger task than expected, considering the time and my limited graphic skills.

Best wishes , Avner Strauss.