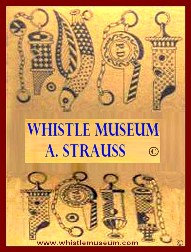 A web site dedicated to whistles, research and collecting whistles. by Avner Strauss.
The well known foremost website Whistlemuseum is now in the progress of rebuilding.
See you soon! Please feel free to contact for advice on whistles. We will not be able to answer all questions only questions with a photo attached can be answered.
Thanks for visiting and sharing
Avner Strauss