Bakelite Escargots with Metal side plate a comparative study, U.S.A made and England . A Strauss (At work to be cont.)
Bakelite escargots with a stamped metal plate insert to one side.
A.Strauss , Copyright © 2009. ( Under Reconstruction )

Bakelite* escargots with metal plate inserts at the side are all Glasgow type escargots made in England and in the U.S.A ,
The side plate insert is applied to the right hand one side of the whistle
(And later on the left (N.S. Meyer N.Y shows on the left side as well).
'Leftiees' are post 1946
Acme Whistles – J. Hudson & Co. made these in 3 sizes, 
Smaller ones are rare (As is with most metal Escargots). 
Colors; Black, Brown, Orange, White, Green. (last three much rarer)
Used mainly by Sporting Goods & Arms companies as well as by British railway and Transportation companies, also by some police forces and colleges.
The big advantage of Bakelite made whistles was that in cold weather ( Sub zero) they would not get stuck to the lips or fingers as the metal ones. They were very sturdy when plastic was still of lesser strength than hard plastic types made later.
The metal inserts are of different designs which makes it possible to know where made.
The ones made in England are all made by J. Hudson & Co. , Acme Whistles Ltd. And are stamped Acmeoid. Made From 1926 to late 1940s , Production of Bakelite whistles by Acme whistles was stopped c 1986. (According to Mr. Simon Topmann).
The whistles are constructed of two parts plus pea, 
One piece mold and an additional circular flat drum side plate inserted to side with or without Aluminum plate. 
Hudson

*Stamped in 2 ways
1) Early stamps ;
Below window " The Acme Thunderer" , and Hudson Monogram on the underside of the whistle "Beak" – mouthpiece.
2) later models ;
"The Acme Thunderer made in England" and no monogram on the underside.
Note; All the whistles seen here are stamped the Acme Thunderer except for the USA & Mexican made ones.
* Metal plates of few kinds but the circular ones with four pins have the pins pointing at north , east, south and west, or 12 O'clock 3, 6 and 9.
* Colors; Hudson made these in Black Brown Orange & white The last two colors are rare.
* The D & M one & the older Iver Johnson have a longer beak , about 3 mm longer similar to USA made ones and are not as wide, a different mold was used for these and it is certainly the earlier one, might even be earlier than 1926.
Because of way made the cup and the material   the whistles deviate by 1 mm up to 2 mm in measurements in same models. ( To be cont.)
Dating : The "modern" post WWII 1946 are 'lefties'  The Aluminum plate, insert is on the left side, The older ones always have the plate on the right side,
It may be that there are exceptions, but the autor had not seen one .
American

* Smooth, no stamps on Bakelite .
* Size; American made ones are not as wide, But Longer.
* Do not have a circle pattern sunk, on the side opposite to the metal plate insert.
* A wider and thinner tooth grip on the lower lip.
* Color; Black or Brown.
* Metal plates are all of the circular with 4 pins pattern, inserted in a way that the pins show the hours of roughly 11 O'clock 1, 5 and 7 O'clock.
* Some have "Made in the U.S.A" stamped on the metal plate, (See Goldsmith # 12).
** Foot note
Barrel end is 28.50 mm and accurate on the USA samples I inspected.
L; is 61mm and varies by less than a mm.
In general The U.S.A. made ones seem to be much harder to find,
and it seems that as of now the American Manufacturer  remains a Mystery.
The metal plate inserts are all Aluminum or nickel silver.
Early Hudson's Oval shape metal plate insert L; 60.81mm W; 22.55 mm Barrel Diameter,; 28.50 mm
This oval plate is the only one noted by the author. seems to be a very early one  pre 1926.
Above, Iver Johnson Later made by Hudson, L; 57;72 mm W; 23.09 mm Barrel Diameter ; 27.63 mm

D & M Sporting goods very rare, It is an Acme Thunderer of a larger size.
Montreal Police L 61 mm W; 22.65 mm B; 27.64 MM
The J Hudson monogram on the underside of the earlier Bakelite whistles.
Acmeoid Co. England .

Reach two variations above and below Both made by Hudson.
Reach made by Hudson round plate with one pin and a strip below round plate,
the first the more common of the circular pattern.

Hudson round plate with four pins angled at 12 o'clock 3, 6 & 9 points, earlier date and scarcer.
Folsom made by Hudson.
P. R. R , Pennsylvania Rail Road made in the U.S.A by an unidentified company. Round Aluminum Plate with four pins. Note, cap shape and the direction of pin pointing. The same plate with B & O R R for Baltimore & Ohio Rail Road  is rarer. 
Two Spalding's,  a U.S.A made one, Pre 1940
Below a Hudson, Acme Thunderer. Made in Great Britain, Spalding changed hands in 40's to a British owner ship.
A Trio of GOLDSMITH # 12, variations Rectangular metal plate with pins, American style insert 4 Pins at 7 11 1 and 5 o'clock points.
Goldsmith No. 12
a U.S.A made one and a circular plate Hudson made.
Goldsmith # 12 with round four pins plate.
 Rectangular plate with 4 pins at the plate's corners, Acme Thunderer, made by Acme whistles,
These rectangular plates are mostly met with British railway whistles with initials and were issued to  British railway companies and transportation companies in different regions. B.R. (S) , B .R(N) etc.

London Passenger Transport Boars 19330- 1948


Keniwel Brand Rectangular Plate


Another Hudson's plate variation , 3 Pins , The Acme Thunderer,
Lincoln Training college.
On the right a U.S. A made one, note longer beak and not so visible but a longer and thinner lower tooth grip.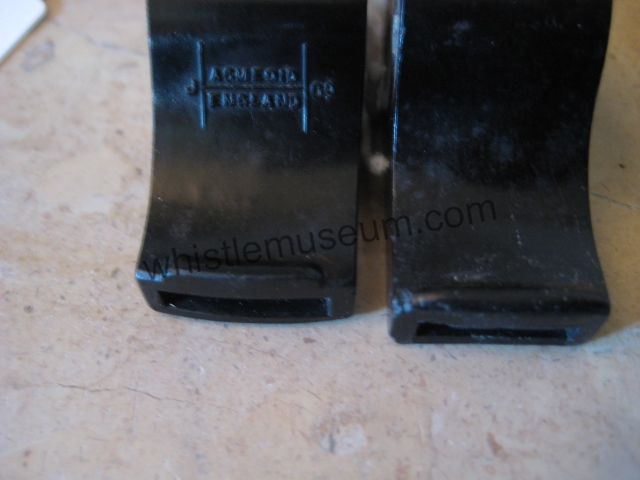 Left Acme Thunderer, Right a U.S.A one, US made Do not have a circle pattern sunk, on the side opposite to the metal plate insert.
J Hudson & Co. Plastic made with Aluminum insert, Black Plastic, smaller size.
C .I. A Central Intelligence Agency 1970's, The Acme Thunderer Made in England .
American 
Grizzly  Gasoline adv. other half side is in white.






Acme Bakelite G.W.R Great Western Railway police button to side, Post 1926
see next photos for another view. 



GWR Raised letters on the inserted circular side plate.
Same type with S.R for Southern Railway is know as well.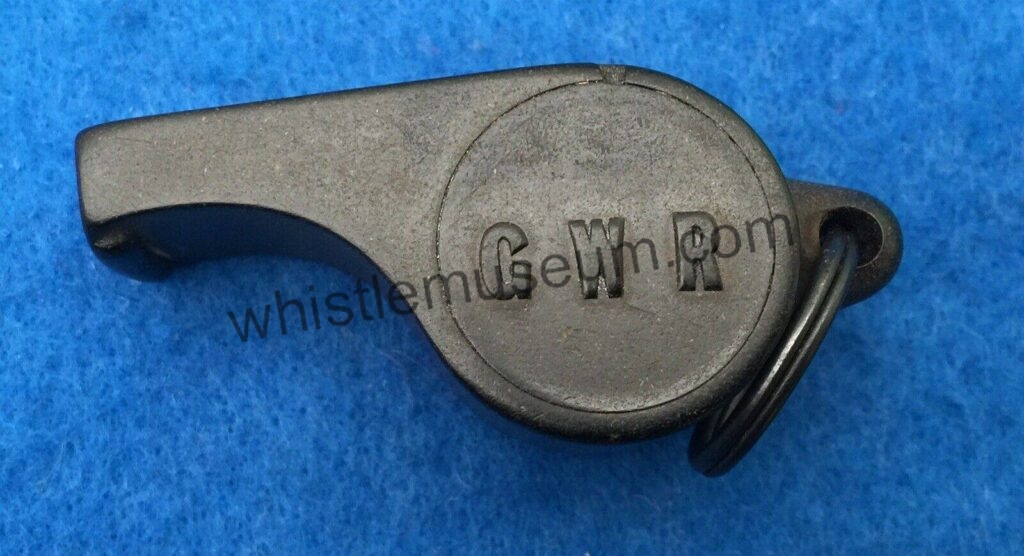 Note aged pea Early Bakelite Acme Thunderer.



Some Stamps on Aluminum metal plates of Bakelite  & Plastic whistles
D & M Sporting goods
Reach (Two plate types by Acme)
Iver Johnson (Two Plate Shapes )
Folsom
Goldsmith #12 (3 types 2 Plates on Acme and and one on U.S.A. made)
N. S. Meyer Inc.
A. G. Spalding & Bros
Lowe & Campbell
Horace Partridge
Leacock
Lincoln Training College
Ratcliff
BCT
Tryon
Rawligns
Abercrombie & Fitch (Small Size: 2″L x .75″W)
Ratcliffe
Montreal Police
Alex Taylor & Co. N. Y
N. S. Meyer Inc.
Horace Partridge Boston Cleveland Charlotte
Stamps on U.S.A made whistles 
Rawlings
P.R.R Pennsylvania Rail Road
B & O R R Baltimore & Ohio Railway (Rare)
Spalding
Goldsmith #12
Acme Rectangular plates
BR (S) British railway southern region (and other regions)
LTE London Transport Execution
L&NER
Goldsmith # 12
Keniwel Brand
L.P.T.D
In Mexico some guild none Aluminum metal  plates insert were made during the second half of the 20th century . L.A Traffic Police with two romantic Angels,
As well as a few dog's head one on Red plastic which has the plates on BOTH SIDES.
" see other entries for Bakelite since 1907.
** Cap is of a different shape curves inward, no hump, but this is to be found on some Hudson made ones as well.
whistle museum , A Strauss ( All rights reserved). Copyright © 2009 .
Posted by WHISTLE MUSEUM at 5/10/2009 12:14 AM
Categories: By Shape and type
Tags: Bakelite Escargot whistles Bakelite whistles American whistles whistle museum
Previous Entry
Next Entry
http://whistlemuseum.com/2009/05/10/bakelite-escargots.aspx


_