The First Two Notes Tube Whistle (G.S.W) With Partition Discovered  Stevens & Son. By A. Strauss (Part B) Underconstruction
The article shows the development of the TNT whistle TNTW (Two note tube) known to most collectors as a General Service whistle (G.S.W) , the development stages and periods from the 1840s to 1870s and later.
To part A Stevens & Son History & More. 

Part C    Dating Stevens Whistles Early and Round Whistles
Part D Stevens Bell Whistles and the Inventor
 
Stevens & Sons at Darlington Works,  1865 .
Preface
2016 was THE BEST  in many years ( for me )  in discovering fantastic ground breaking news about whistles , and information about Whistle Makers – Manufacturers,
Some really change all we knew and thought about whistle history , whistory.
While preparing long articles with serious news about unknown whistles and new historical facts , for this blog , I thought of sharing this , since I had some reasons to celebrate today so here is a taste of some of  the new findings about Stevens's whistles and history.
The Invention of the partition or TUBULAR WHISTLE WITH A PARTITION
and two different lengtn chambers . belonging to Richard Porteous and made by J. Stevens & SonPrior to 1866 .
The FIRST KNOWN G.S.W – General Service Whistle , Or
T.N.T – Two Notes Tube Whistle or TNTW a term I prefer .
The Partition is a long rectangular metal sheet inserted within the tube of the whistle's body; thus dividing the whistle into Two Chambers , then making  UNEVEN depth or length to each chamber by shortening the inside part of one chamber so it produces a higher pitch than the longer one .
This could be done by few drops of lead inside one of the chambers, or by making the inside part of the top uneven, or in later years by bending the partition 45 degrees at its end so it cuts one chamber shorter, so the whistle plays two notes of different frequency and pitch at the same time creating a dissonance which has a louder and more alarming sound than a single note. 
Previously this invention was attributed to J. Hudson & Co. early 1880's
with the Metropolitan whistle,
But the first one was actually made Pre 1866 by J. Stevens & Son
designed by Richard Porteous, and stamped 'Porteous's whistle' Made by
Stevens & Son Southwark Bridge Road London  .
The previous known Porteous Tube whistle that was made earlier and in Brass , in the 1840's and maybe very early 1850's had two windows and no partition, A single note tube whistle with two windows. It did already had two distinct original features that would be imitated and served as a model for few dozen years by other makers;
THE TOP CAST LOOP , concaved loop, (Compare to Dowler's later whistles which he copied from Stevens for example) and ..
THE MOUTHPIECE, the first to have the design I call 'APPLE MOUTHPIECE'
it was  to serve as a model for makers to follow, Dowler , Hudson, & Barrall to name a few . It is still considered a most desirable design by collectors.
Previously a similar one was made, (Single note tube with two windows and no partition) see part C.
It predates the next, and has a none apple M.P
The next step was inserting a partition and making one chamber shorter to produce two different sounds – Pitches – Frequencies at the same time .
It should be noted that the two chamber whistles were previously used but
only in flat two chamber whistles not in tube whistles.
The idea of partition happened in two stages first with a short partition and then with a longer one which was touching the diaphragm.
The new idea was revolutionary.
There are Two models; one has a Bulbous top known as 'Porteous Top' Tube whistle MODEL # 27 , Previously unknown , and the other a straight tube ,
Both have a THE FIRST KNOWN PARTITION – which I call "Short Partition" previously unmentioned , both share a SHORT PARTITION which does not connect to the diaphragm or the diaphragm disk ,
The ones that do meet the diaphragm were a later development also made by Stevens shortly after and became the STANDARD of the industry .
These first whistles were expensive to make at the time .
Model # 27 was made without the Bulbous top (Porteous's design) as well.
See the following pictures.
Both whistles have machined combined mouthpiece and diaphragm.
which vary in Length and fit the window height , the Lower the windows
the shorter the machined Mouthpiece.

A Shorter model of #27 made pre 1865, German Silver.

The other MP  variation is smaller in diameter but longer which implies HIGHER WINDOWS was used on the ones without a Bulbous top, using a smaller diameter tube.
–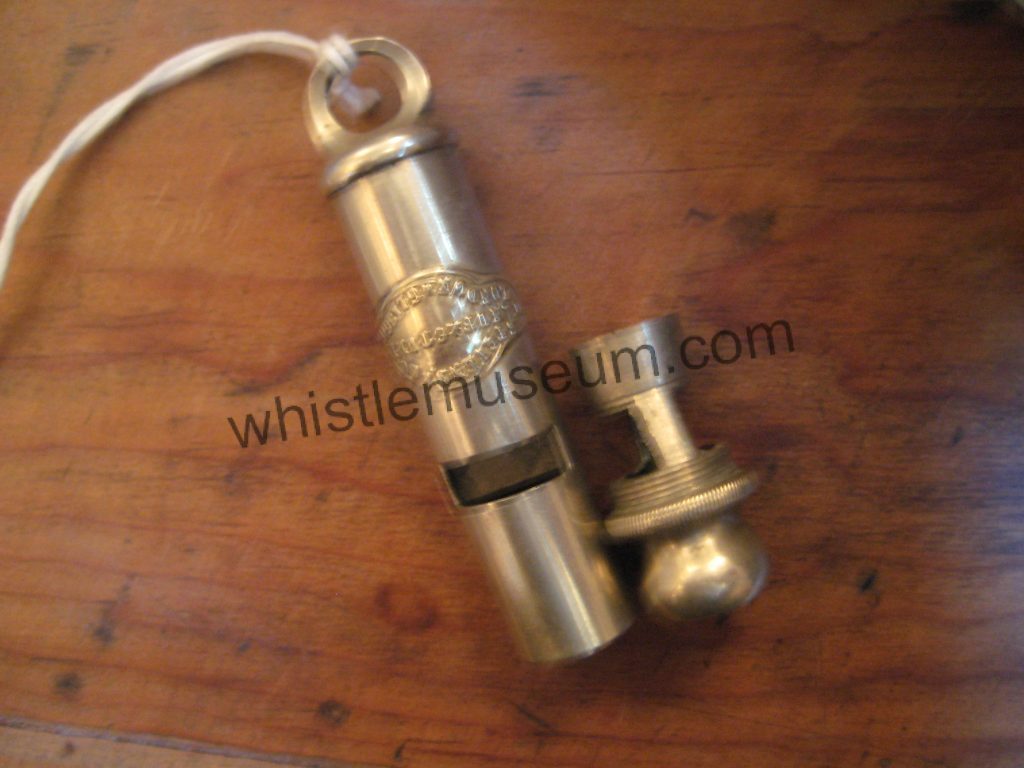 Here are examples of the 3 main Machined Mouthpieces John Stevens later & Son and Later & Sons made to fit their whistles. . There are variations (Mostly in Diameter). It took a master's skill to made these. No other maker made screw in Mouthpieces in which the diaphragm & the mouthpiece were machined from a single rod.


Next is a close up of two examples of the first partitions produced by
Stevens & Son.
I call these "Short Partition" "  since you may notice the space between the partition and the diaphragm ; in this case a machine threaded mouthpiece
and combined M.P   – one piece Mouthpiece and diaphragm.
Straight tube none porteous top Pre 1865 TNTW with short partition. It seems that this yet unnumbered model predated the Porteous top one and model #27, and was developed in the early 1850s to 1860.

A Porteous Top TNT made c. 1868 by Stevens & Son for Hebbert & Co. 16 James St. Haymarket (London) Screw mouthpiece of the wider type made to fit in Porteous top TNTW where a wider tube was used, as in Model # 27
This plate does not show on the Plate table but belongs to the 3rd period. 
A Post 1870 variation, see part C for dating
Long Partition and apple shape screw in Mouthpiece
Here is a better photo I hope, of the first T.N.T , Model #27 the left one is PRE 1865 ( I believe pre 1860 but 65 is to be on the safe side) made of German Silver, Short Partition,  two notes, a Major 3rd apart, with 2nd period, Porteous's Whistle Stamp, and on the right hand side is a Nickel Plated Brass 4th Period plate, 'Manufacturer', The seam of the tube is not centered.  BOTH Have a screw mouthpiece, machined from one rod combining diaphragm & M.P .
The whistles are similar in size BUT the First Period shows a SHORT DIAPHRAGM, take a close look at the whistle's window, and the next has a FULL LENGTH diaphragm. My studies show that no short partitions were made post 1865, and my feel is that the short partition as well as no partition at all (1rst Period) were made prior to 1860.
The Mouthpiece of the later one is very slightly larger (A minute difference).

A Stevens & Sons Railway whistle stamped London Brighton & Sound Coast Railway L.B.& S.C.R with screw in mouthpiece made in the 1870s to early 1880s.
It remains to be double checked for exact period. Note, no milling to M.P

A single note tube whistle with two windows and no partition disk diaphragm with Ivory mouthpiece, a similar one was later made by Hudson (1870s) with a Gutta Percha Mouthpiece.
Here is a very special design of a CASED TNT  Military Whistle made to fit a cross belt.  It is made of heavy solid silver, weighs 96 gr. a unibody TNT whistle and a very impressive ornamented case.
The way the whistle locks into the case with a small pip cast on the body
(take a close look) which slides into a small receptacle and then the whistle is turned so it is locked in case, reminds one of Richard Porteous ingenuine designs, albeit it seems to be after his cooperation with Stevens.
Here we are going into the subject of later made whistles the ones with no screw  mouthpieces, no plates & no numbers, c.1880 (late 70's)  to 1900 and the last Period Post 1900 when J Hudson & Co. started manufacturing Stevens & Sons whistles.
The last period will be discussed in another post PART E. 


A lite Solid Silver with apple mouth piece.
Stevens & Sons Silver whistle with Intials that look as it may be someone's name.
O.B.S.B (Help in comments or PM is welcome) 

The subject of Retailers who supplied Stevens & Sons whistles,
will be discussed later as well. The largest retailer of Stevens whistles was
H.A. Knox & Co. (H.A.K & Co.) Here are 4 of his whistles, will upload more  H.A.K. & Co London was the trading name of
Henry Augustus Knox & Co cutlers and Iron Mongers located in London and since about 1870s (May be earlier as well) retailers of Police & Bicycle Supplies .

There are many more photo & whistles to be updated in this article hope to do soon as time permits.  Some you may see in Part C .
Whistle museum article and photos and content by Avner Strauss, all right reserved , 2008 no part of this webpage is to be used without the explicit permission of the owner.
Email : info@avnerstrauss.com All rights reserved 2016
Best Regards Avner Strauss