The "Uneedit" Multitool , advertised in the Victorian catalogue,
Spratt's Gamekeepper's Sundries as :
"A neat, compact and useful combination tool, comprising corkscrew, cigar-cutter, dog whistle, turnscrew (capped) and cartridge extractor for both 12 and 16 bore. Nickel-silvered". It is made of Brass plated with Nickel Silver with a steel corkscrew .

The picture above is of the smaller one ; L; 98mm ,  seen side by
side with it's bigger brother. (shows how proportions are impossible to judge without a reference object.)
Whistle combined with "12" & "16 " Gauge Extractor, corkscrew , cigar cutter & screw driver for extracting shells. Multitool, and a  gentelman's must …
probably 1880s.
Both whistles have  a cast round pea whistle with an exceptional Sound quality .
It reminds a very old 1830's 40's cast steel whistle that was made combined with carriage key with folding "arms" handles (See next pic. ) , and cast whistles made on swords , made of one piece as well .
Both versions are very rare,  the larger one extra rarer, in fact it is the only one I've seen.
The Maker of this Great superbly made 19th Century "Unedeet " tool remains   A RIDDLE to be solved but the whistle style may be a clue…
–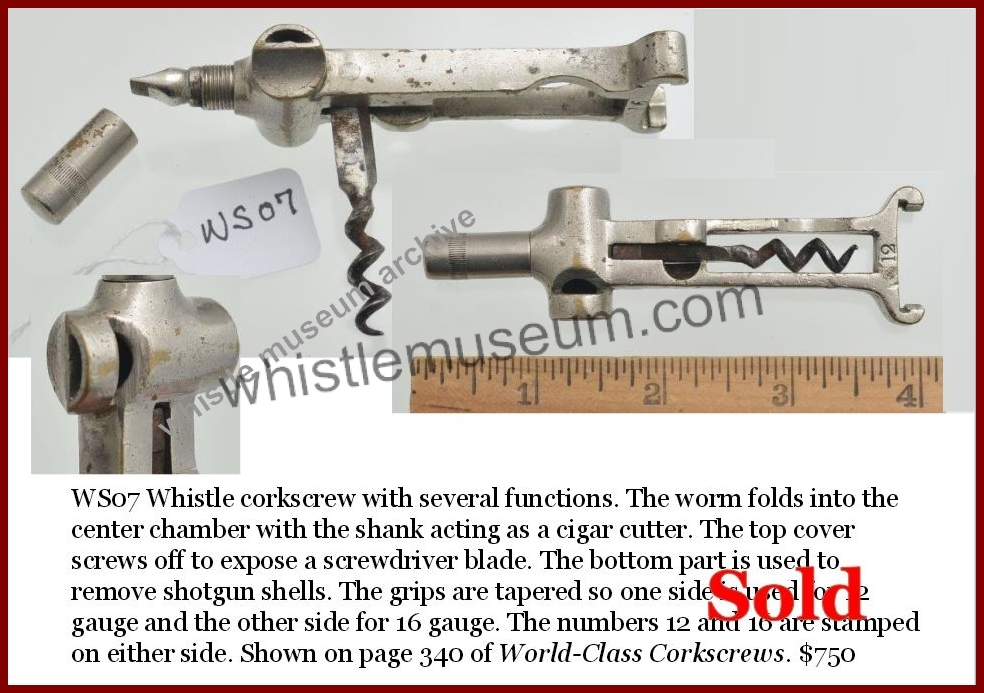 The one above was advertised by one of the great corkscrew collectors
Mr. Don Bull who also runs the weekly screw website , and a great authority on the subject.
It is one of the more expensive whistle  sought after by corkscrew and by cartridge pullers collectors , so it is no wonder it did not show up in whistle collection or books about whistles.
Upon watching the  rich  literature & books about antique corkscrews
we whistle collectors,  one realizes we ( Whistle collectors )  are still way behind. ( See the weekly screw site for a list of books… and old Christie's auctions catalogs).
A pristine condition one just popped up (Feb 2017 ) , here is the picture .
the last one was sold on eBay for over 700 GBP ( 2016) by a collector of hunting gudjets.
Whistle Museum,A. Strauss All rights reserved.
Posted first by WHISTLE MUSEUM at 10/24/2008 4:46 PM
Categories: By Function
Tags: whistle museum cartridge puller A Strauss Corkscrew Extractor whistle Extracvtor whistle cigar cutter whistles weekly screw
http://whistlemuseum.com/2008/10/24/unedit-multitool-with-exeptional-sound-round-pea-whistle–extractor–corkscrew–cigar-cutter–vict-england.aspx