Stevens & Sons Whistles (Part C)
Contents 
Dating Metal Plates on Stevens Whistles by periods (4 periods) 
A Historic Whistle Discovered,
And few important dated ones. 
EARLY round whistles Pre Mid. 19th Century made
by or attributed to Stevens & Son
The Numbered Whistles (Whistle Models) & Numbered with Plates
THE ARTICLE IS STILL under construction

Plates found on whistles by Stevens & Son- Sons dating and examination of plates & examples

The common plates can be devided into 4 groups and periods. * and **
Here they are in chronological order:

1) Plates with 'PORTEOUS'S WHISTLE' and no mention of Stevens app.1835 to1850s
2) Stevens & Sons 'PORTEOUS'S WHISTLE', c. 1850 to 1865
always in London at southwark Bridge.
3) Stevens & Son, Porteous's name dropped at London & Glasgow,
     plate stamped 'PATENT WHISTLE'.  c. 1865 to 1870
4) Stevens & Sons 'MANUFACTURER', Patent dropped, c.1870 to 1880
So we can see that early ones do not mention Stevens,
and later ones do not mention Porteous.
Extra 'Rules of Thumb' for dating (One may add one year 65 – 66,  70 -71 ) :
Rule 1: "London & Glasgow" on stamp  is POST 1865.
Rule 2 : Stevens and SONS plural not SON is post 1870.
so; Stevens & Son London & Glasgow is 1865 to 70 ( 66 to 71)
* The periods are subject to some minor changes, since we have no exact date for the last made and not for the first.
** There are more plates, used with retailers.
Metal plates and Actual Examples of the Four Groups
GROUP # 1
L: 81.5 mm
Body Diameter:
14.5 mm
Seam not centered,
Screw Mouthpiece
Made of one piece combining
Diaphragm & MP
Single note Two Windows
Short Partition &
'See Through' Window 

Same Type & features, A larger size model: L: 55 mm diameter 20 mm
Machined mouthpiece & Diapragm Mouthpiece
Combination, a porteous design that was made by Stevens in many whistles to follow with small variations ( See part B ) used in the 2 whistles above.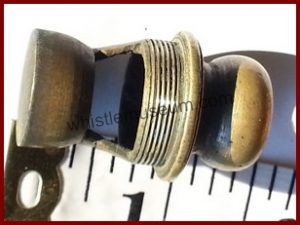 A longer
GROUP #2
Second Period plate, on a model, numbered  # 27 TNT Long full partition
and a Bulbous top, today known as Porteous Top. 

A second shorter variation
Two TNT whistles, one from group #2 and on from Group #4
Note the original APPLE Mouth Piece Design and the top loop,
Which was designed in the 1840s,
This became the DESIGN and Model which inspired all makers to follow.

Stevens & Sons early TNTs with screwable machined mouth piece, smaller top loops and the first to have a partition, which was the 2nd phase in the development of the police TNTs (GSWs) one plate is Stevens & Son LONDON Address Pre 1865 -6 and PORTEOUS'S WHISTLE
The other is Stevens & Sons Plate (Previously Gillchrist's Collection and in his books) Post 1870-71 and and middle line on plate is MANUFACTURER (Not Porteous's whistle) see Group # 4 Plates.
I suggest there may be another 3rd one with a plate which has 'Patent whistle' made in the time period between these two, not yet seen by the author.
Thus we can learn that Stevens made these in the late 1850s or very early 1860s
and the earlier version has a shorter partition which does not meet the machined M.P  and has a half see through window, while earlier pre partition had a full see through window, now we know that these were made for a period of give or take
about 10 years.
GROUP # 3
Stevens & Son Plate 'Patent Whistle' 1865-6 to 1870-71
Supported by the fact they moved to Glasgow c 1865-6
and that the SON is in single,  name changed from Son to Sons c 1870 -71
Patent whistle plate on a whistle numbered # 29 

Here is an example of the same whistle, NUMBERED #29 with different plates, one made Pre 1865 the other during 1865 – 1870 period, NOTE THE PLATE WAS APPLIED OVER The stamped number on the right hand side one. It is CERTAINLY possible that we may find one with a plate from the 2nd period, since the numbered # 29 was first made pre 1860.
( Take a look in your drawers guys).
If there is a variation with a plate of Stevens & Sons
whistle patent, London & Glasgow ( which I had not yet seen ) it would show that this model #29 was made after 1871, but as long as I do not see one I assume model #29 was not in production after 1870.
 GROUP# 4
The word 'Patent' is dropped and replace by 'Manufacturers'.
Stevens & Sons 1870s Wooden Fipple acron top, a chubby whistle
Note it says "Stevens & SonS " and 'Manufacturer', London & Glasgow
The same whistle was made in Brass with a Pig Nose Fipple.
---
---
A Historic Whistle Discovered 
And few important dated ones.  (1830s) made by Stevens
A Newly discovered HISTORICAL WHISTLE with unique features proved to be a one of the most important discoveries and led  me to some insights about the development of Professional whistles in the 19th century  and understanding the time line and development of many whistles to follow, a whistle which was the 'MOTHER' of many whistles to be developed .
So we shall take a close look at this one.
I will try to explain simply, though understanding the importance requires being familiar with the background and being familiar with other whistles.
I will do the best I can to explain. We know it is a Stevens since it has the same DIAPHRAGM as Porteous's 1843 designed Signal Multipipe whistle which today we know from the info I wrote in Part A about the testimony in a Book named 'Breaking the Dog For The Gunman' By Hutchinson.
The whistle is made of gun metal, and Brass Mouthpiece .
A 3 part whistle, Part 1 top & body are machined from one rod with a thread
for screw mouthpiece.
Part 2 a heavy flat diaphragm inserted into the body
Part 3 THE MOUTHPIECE, a screw on body Mouthpiece.
Details
Pitch: B 
weigh: 100 gr.
Legnth: 77mm
Body: 18.2mm 
MP: Diameter 20.6
Made 1830's and prior to Porteous Wind Instrument For Signals made 1843.
The whistle is the first professional whistle found with a
NONE INTEGRAL MOUTHPIECE, (Compound Round- Circular round  M.P Vs. Beak type) and made me divide all professional round whistles to two categories,  understanding that all professional round whistles fall into two categories:  one with integral mouth piece (Way more common), where the upper part of the mouthpiece is an integral part of the whistle's body, and forms a 'BEAK' like shape when the lower part is cut diagonally and a diagonal cut to fit fipple is inserted under. and
The other category shares a separate mouthpiece is that over rides the body or inserted inside, as in this case. It is a Circular round or compound rond M.P .
On the left the body, right hand we see Part 2, the diaphragm insert.
Here is the diaphragm compared with Porteous's multipipe Wind Instrument .


Here is the 3rd part the mouthpiece
A COMPOUND ROUND Mouthpiece.
Another variation of solid machined brass whistle did suface in September 2020,
Identified as another of the same type made by Stevens very few years later, again it has a Screw off Mouth Piece which covers a Stevens -Porteous diaphragm disk.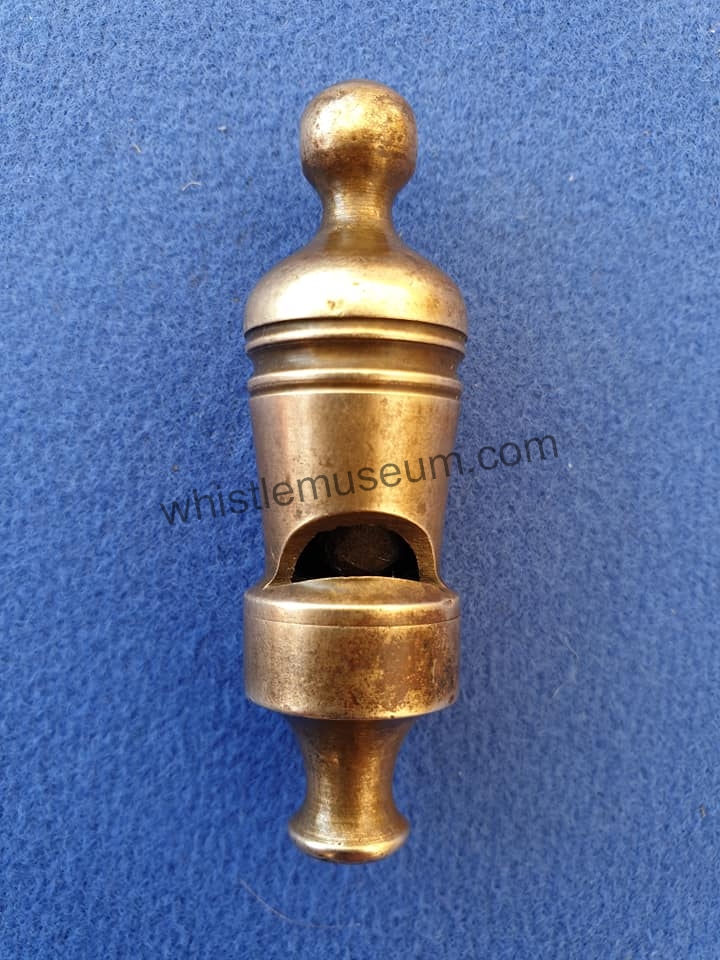 Photo: Dan Wood


Now we have two of these early Stevens's early round models and I am sure there are other models made at that period with the same  typical features,
yet to be dicovered. 
Porteous's Wind Instrument for signals, Registered Febuary 27, 1845. Is a Multitone made wth 3, 4 & 6 Pipes, It will not be surprising if we discover he did made a 2 pipe one. 

Four pipes version L; 88mm
The stamp around the mouthpiece of Porteous Wind Instrument for Signals.
Next a photo of 3 & 6 pipes versions.

A Letter from Charles Rowan To James Graham regarding the use of this whistle with police force, written in 1845 from which we can learn a trial of the whistle was made prior to date of registration.
Other whistles made by Stevens & Sons Pre 1845 are the
Porteous's Regimantal Field pipe, Made c.1833  is a Large 120 mm whistle,
with 3 finger holes made as the traditional old Fife & Drum, or bugle.
C. 1932 Porteous was an active musician, well acquainted with musical brass & wood wind instruments some 20 years later (1954) he published the 'Band Master's Atlas' for musical instruments.
Brass Instruments have a Very long History some are not aware of,
here is a page from 1616 ! showing some brass instruments instruments
Plate by Michael Praetorious of Brass instruments 1618

 Porteous's Regimantal Field pipe C. 1832
L;  120 mm, 25mm in it's widest point, weigh 133 gr.
THIS WHISTLE WAS MADE IN BRASS AND NICKEL SILVER AND INCLUDED A FEATURE which will appear on MOST  of Porteous's designs a SCREW TOP.
–


Porteous's Regimental Field Pipe Plate with Latin moto; Dieu et mon droit, God and my right seems logical. 1834 Stevens & Sons.

Next are Two photos of His advertisement 1934
Next is a List (part of the same adv.) of the retailers of where it can be obtained, mostly famous dealers and makers of musical Instruments in London with which Porteous was in touch as a Band leader and member.

Next is his 'PORETEOUS WHISTLE' with the "K" Military mark,
Line- dot- line below and above the name PORTEOUS'S WHISTLE'.
It is a SNTW single note tube whistle attached to a cosh which serves as a 'Billiy Club'. And was called "Porteous Life preserver".
It has his first screw in MOUTHPIECE. 
(Another one where the mouthpiece screws over the whistle appeared in a round pea whistle discovered, here for the first time).
The whistle was auctioned 2014 for 280 GBP, described as" "A VICTORIAN PORTEOUS LIFE PRESERVER, having angled brass whistle, handle and plated clad leather cosh below, 30cm"
The whistle above was made during the first period of plates mentioned, and I will now go Back to some specific examples of the 4 periods of whistles with Plates
---
---
EARLY round whistles Pre Mid. 19th Century made
by or attributed to Stevens & Son, Unnumbered types. 
L; 53 mm Weight: 53 gr. 
Right a Brass & Ivory dog call Pre 1847, L: 85mm, Closed position , I believe to be the first attempt by Porteous to make a Dog Call.
It is a slide whistle which is NOT a musical full octave as was made by Distin Brothers c. that period as musical toys, but rather a half octave or more precisely has a range 7 semi tones, from root to a 5th above.
This was meant to be used for dogs, a Later version upon the suggestion of Mr. Hutchinson documenting dialogs with Porteous in his 1848 book was smaller and Numbered # 36 , it is among the numbered whistles chapter here.
Both whistles use the same thread for screw top, so I played around and made a Hybrid one. Both whistles use CRIMP rings, an ornament which was used originaly by arm makers on Bullet Shells I believe.
UP LOAD PHOTO
Regarding some  whistles I am not positive as to being made by Stevens & Son,
So some would be attributed, I will in the future expand with details.
The next one is a heavy Georgian period gun metal whistle, from the "PRE HOLE IN THE TOP PERIOD" were made, these type of professional round pea whistles were made mostly for military use and seaman.
Thisfeature of Ball type top with no hole can serve to identify


1888 Round pea whistle which
appeared in an article about
collecting whistles in 1976,
It has the long neck dotted acron top,
typical to Stevens.
Small early screw top round pea whistle made of German Silver.
---
The Numbered Whistles

This is the first preview of Stevens & Sons known numbered whistles, the numbers certainly belong to specific types & Models , but if I assume that these are models there are too many missing ones (Nothing from # 1 to # 27)
Although possible since few of the numbered have only 1 or two actual examples found. unless the numbers were not consecutive numbers.  The numbers on Stevens & Son whistles are still undetermined, the first feeling and  is to think of the numbers as Model Numbers but this brings too many question marks , Dixon & Son had numbered items so they know which worker made the item, It can be well the case with Stevens as well, He did have an estimate of about 40 workers in the 1840s, 60 workers in 1860's. It would also be logical to assume that very few of his workers actually made whistles.
The stamped numbers show that Stevens had 10 stamps, one for each digit,
two digit numbers were stamped one digit at a time.
So for 29 he used two stamps at times not lined up, and in the past thought to be
# 63 (Easy to misread the number, when not read towards the top).
Number #1 and Number #30 Here were attributed to Stevens for few reasons
buut the main one was a careful examination and comparison with the same figures found on positively identified as Stevens, So # 1 we can see the same design style and size appearing on the digit 1 in # 31 and the same goes to digit 3 in # 30.
and
NUMBER # 1
Details: Length: 85 mm, top diameter is 37mm weight 215 gr
Made of 3 parts. The whistle on the left a TNT is for size comparison.
whistle # 1 The whistle is stamped in 3 places the Number on Body side
and on top New castle on Tyne and what seems as NWALSC (Last letter may be O or G  Help as to possible abbreviation is welcome in comments).
It is a railway signal whistle, may be A Boiling Tank Alarm in a steam locomotive In the 1830s few train accidents made Stephenson & others probably Stevens as well put their minds to solving few problems. I shall try and discuss this type of whistles which we know so little about some other time.
NUMBER 27 was the first number model made 
Number 29 is the more often met with of Stevens Round Pea whistles (Still rare), IT WAS MADE in various sizes (60mm, 65mm,72mm) and various plates and at times without a plate and unstamped with a number.
The left one has a 3rd Period Plate 'Patent' the right one 2nd period 'Porteous's'
Note the later one has a pip on the acron top.
Here we see a couple of Numbered and Plated whistles plates are different !
So these were made at a different periods, The Plate was applied AFTER
and number is half covered.
Left is 3rd period plate , and on the right 3rd period.
Number # 29, 60 mm (Courtesy of D. Wood) 3rd period. 
                                                          Number 31
Is a small 50mm round Pea Whistle , and the only Stevens noted with a Round Window, It has a screw top for replacing pea or cleaning  and a small bulbous top.
The top ball- head and neck design is reminiscent of Later Yates and Dixon whistles.
                                                          Number # 30 *
Stevens & Sons # 30 Railway Guard Whistle, with arched windows .
* This one was not possitvely Identified with Stevens.
The period 1850s seem to fit and so other features, as the number type
and screw top. I will disscuss this type made by other makers in upcoming article about "Railway & Military whistles".
(Photo from the collection of D. Wood)
                                                          Number # 36
A Dog Call made c. 1848, probably the one Porteous discussed developing with Mr. Hutchinson as reported in the book.
This one is a superbly ingenious design, disscussed here in details in 2008 article which was archived, I will try to expand and update.  
---
3 parts, Fipple not pictured, the whistle has the same diaphragm disk cut as # 29, seen in the end of this page.
Coming up
Other plates & Stamps found on whistles
Made by Stevens & Later by Hudson
Identifying Features
View of the uniquely cut diaphragm in some Stevens & Son round pea whistles, here is a topless model # 29, this can be used to identify Stevens whistles.

Tops , Fipple, Body Seam etc.
Retailers see part B Tube whistles (underconstruction)
Railway Lines
Hebbert & Co.
H.A. Knox & Co.
Whistle museum article, Original Research, photos and content by Avner Strauss,
all right reserved.
2008, no part of this webpage is to be used without the explicit permission of the owner. If you do have questions regarding whistles please attach a photo
Email : straussav@gmail.com  All rights reserved 2016
Comments are most welcome.
If you have additional informationor whistlles, or have discovered an error,
please write to us:
Best Regards Avner Strauss