American Bosun Pipes, Bosun Whistles, and More. A.Strauss
Some of you may remember that the old whistle museum website was lost, later I was able to save many posts from there using the Time machine web archive. I started copying some of the 500 posts the photos may not be as good as the original ones and will now have a double 'whistle museum' stamp but will suffice. This post was one of many dealing with the subject of Bosun whistles, I will spontaneously bring more while I keep researching and studying.  A.S 


American Gold Bosun Whistle, 1853 Gold Dollars sides 128mm 29gr,
Cylindrical sound chamber, Spiral wire at Keel end, 2 Filigree bands and mouthpiece, serpentine gun.
A drawer – Cabinet with  few dozens of Boatswain's pipes – Buson whistles.

The second from top right hand side is a 140mm old uncleaned silver, I was told by experts that it is from 1820 but it it seems to me as a very early estimate.
The design was certainly a USA style 19th century design since in early 20th century German catalogs of German makers, the same model appears for export as USA style Boatswains pipe.
The Model is marked "STERLING" .
A similar in weight , measures, design and size model stamped
AE & Co. Utica N.Y
In a Triangular stamp
with Plain & almost straight gun
L: 140mm  Weight:  24gr
It may be of a later date but I did not take the time to research that company yet.

This model also in nickel plated brass became the standard for the U.S. Navy, seldom stamped with the marine vessel's name.
The fourth from bottom right hand side is stamped , on one side :
U.S.A Pattern (Note the word pattern uses different punches for letters ).
Dated 1936 L.C.H
US CGC Hamilton WHEC-715 and US COAST GUARD
on the other.


It is also stamped under the Keel's frame LORDSHIP N.Y in between  two tiny stamps inside rectangles which are too small to decipher. 
LORDSHIP N.Y , They used HLP as their hallmark while their corporate name was "His Lordships Products" until about 1973, they then changed their name to "Lordship Industries" and their hallmark to LI.
The next one is a nicely designed whistle made circa late 1990s early 2000's as a souvenir often sold in a wood box inlaid with brass anchor.
When I first saw it it was 2004 and was tempted to pay few times more then it's worth,
It is sold in souvenir shops in many port cities, along the eastern and western coast.
I consider it as an American one since I had not seen it sold anywhere else but  it may be made in china or the far east .


To Be cont. Meanwhile I would like to add that looking at my whistles I found very few American Shaped ones and all together there must be many thousands of ones stamped with a SHIP's name and US navy ones , so if any of my readers can send photos of some (will be credited) it would be appreciated.
In the meantime I realized that it could be categorized by shapes that can be easily identified and I shall bring DRAWINGS of the typical ones.
Few countries have their own typical design that can be recognized in a glance mostly by looking at the Keel – body.
Russian bosun pipe shape
American Bosun type shape
German Bosun type shape
French Bosun type shape
British bosun type shapes
Chinese Buson shapes and unique features (I did a short post about some here in the past)
Early types

Other countries.
If you have any other examples and wish to contribute
Please email : info@avnerstrauss.com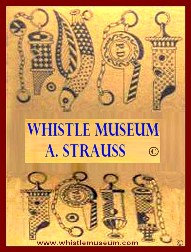 Whistle Museum, A.Strauss All rights reserved.
Posted by WHISTLE MUSEUM at 3/1/2014 8:38 AM
Categories: By Function:Marine Naval, By Continent or Country:American, A Longer Article, By Material:Metal & Brass:Silver & Gold
Tags: ship Boatswain pipe Boatswain's call Bosun