Whistles used as Bird Calls are a huge category,
Many of the hand operated type whistles vs. Mouth whistles use a Bellow,
There are few types of Bellows. This time I will review few pedal shape bellows
made of wood & leather. The operation is by hand & the term is used because of the shape albeit I think these could be played by the foot as well.
Here are few examples of Antique Bird Calls – Whistles, 19th century to early 1900,  certainly a seldom met with type.
The French and European Continent Bird Calls & are very different than the American ones, and of the far east ones.
These I  believed to be folk art work of rural hunters; Tin whistle combining a  mechanical element, a Bellow – Pedal shaped Bellow & Whistle, but found out some stamped bellows.
I had looked through many catalogs of bird calls – whistle manufacturers from mid 19th Century onward and had never seen one in a catalogue.
There are four different calls here all from France & Neighbouring countries (Belgium) , I would be glad to see more if the reader happens to have.

Next is one taken apart, the Tin whistle incorporating a button type whistle can be used inhaling or exhaling it seems that when attached to the Bellow it works by pressing the bellow and it omits a sound when released, but short lite press and release movements produce both sounds.
The calls are made of various materials including a Tin Whistle , Leather, wood, steel spring & iron nails.
Lately upon finding a bellow made C. 1890 by Corry & Co. ? ford St. London,  Agriculture supplies, for Farmers and Beekeepers. I figured the bellows which had other functions, may had been at times 'boroughed' to construct bird calls
and testifies to its origin and construction.
see one stamped depose below;

Bird Call, whistle Appeau Ancien per Merle, France pedal bellow whistle for merle – Black Bird.


Here are 4 Pedal Shape bellow whistles made to attract Black Bird



Back side view,
Note all four tin whistles are of a different shape and design,
the left hand side one has an extra tin attached to the bottom for mounting,
and the right one an extra tin loop for lanyard.
The green one is the largest and has the loudest sound with a lower pitch since it has a larger netal chamber.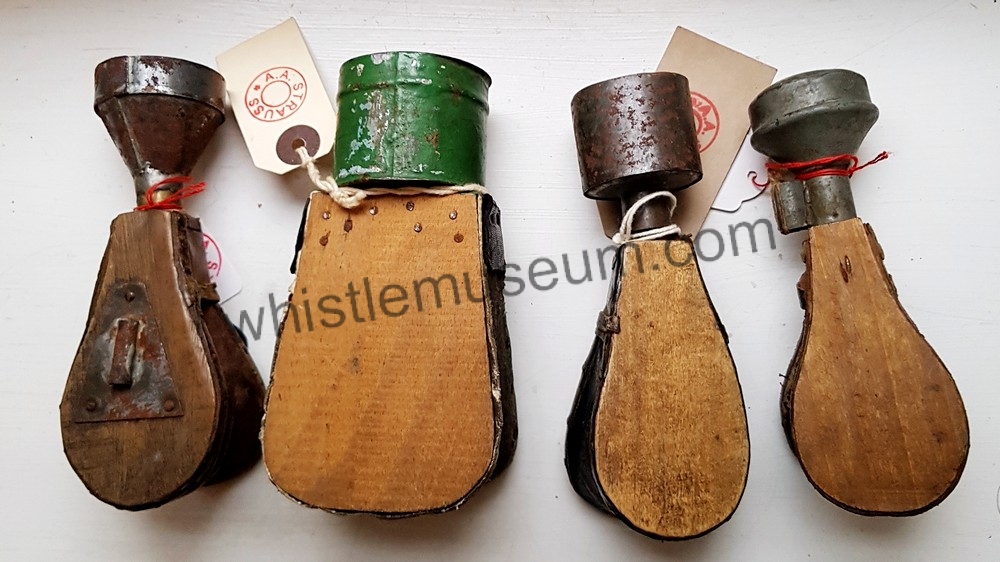 Next you can see the exact measurements of 3 of the four calls  I would like to thank Mr. Marko Stagnaro who is a Master of building bird calls and an expert on the subjects of Bird Call – whistles , He resides in Italy and some of his works and articles about the subject can be seen in his website at
https://chioccoloecaccia.wordpress.com/

A bellow retailed by Corry & Co. Mail order catalogue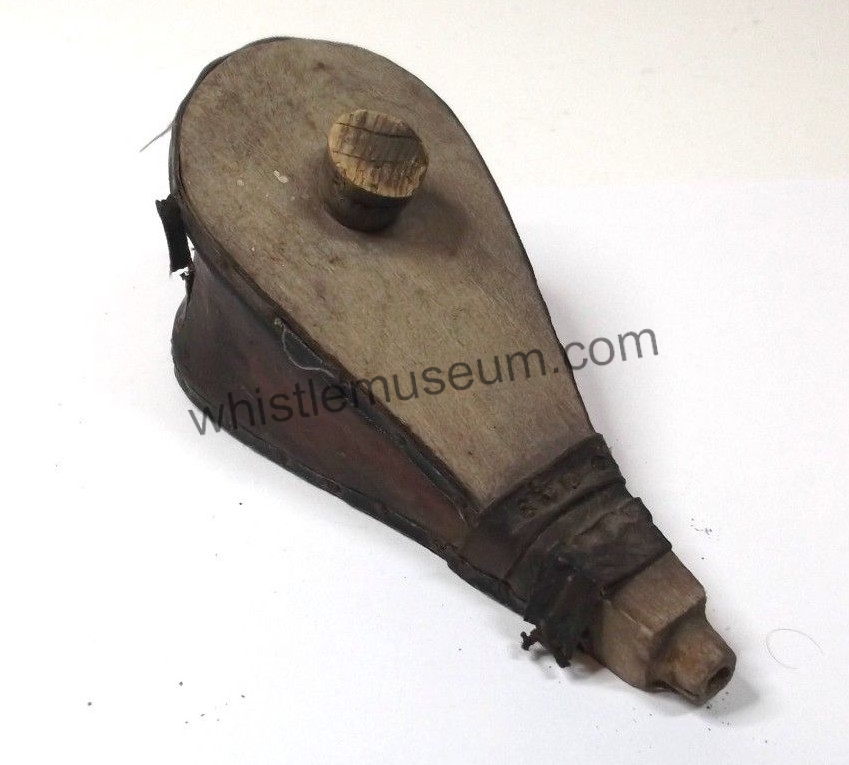 Stamped Bellow Side
A Bellow sold & stampede by Corry & Co. c. 1890.
So it seems whistles were attached to these bellows which had originally a different function.
Corry & Co. produced and retailed many items . This page from 1938


I am not sure weather if the whistle with oval stamp which reads A ? A Depose on the wood plate, is a whistle manufacturer made, seems more likely it was made by a French  agriculture supplies company, similar to the Corry & co. stamped one in England.

All rights reserved for Photos & Article  A. Strauss  2019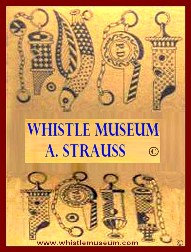 Antique Whistles Ancien Sifflets Museum Appeaux, Appeau Merle