Acme Whistles Registered 1911 Emblem Snail Whistles & Variations, Button Style with Embossed emblem Sides.
These whistles were registered by ACME WHISTLES,
J. Hudson & Co. Birmingham in 1911 They are similar to button whistles in having an emblem embossed on cap, and are all made of nickel plated Brass.
 In the photo, top to bottom: Tudor Rose, Shamrock, Rose, & Thistle
 It is the first addition of Acme Whistle 3 registered designs with emblems embossed on caps.
The Shamrock
Reg. design #578510 Model # 616
The Thistle
Reg. design #577844 Model # 617
The Rose
Reg. design # 576579 Model # 618
The Tudor Rose at the top is smaller, has a shorter Cap & beak, very rare, Martyn Gilchrist the great whistle scholar, wrote in his book
More Whistles (2005) Pg. 11, That 'it was lodged but it is believed none were ever produced'. Mean while I discovered two variations so it was produced but probably in a VERY LIMITED one time edition each time.
It has only two known versions one with P. 608282/ 12 on side cap and one without embossed number.
All of the first edition bubble tops of this series are rare, some stamps & emblems are rarer.Excerpt from Acme Whistles Catalogue showing the 3 models.
The Symbols (From Wikipedia)
A shamrock is a young sprig, used as a symbol of Ireland. Saint Patrick, Ireland's patron saint, is said to have used it as a metaphor for the Christian Holy Trinity.
The thistle has been the national emblem of Scotland since the reign of Alexander III (1249–1286) and was used on silver coins issued by James III in 1470. It is the symbol of the Order of the Thistle, a high chivalric order of Scotland.
The white of York and the red of Lancaster are joined together to make The Tudor rose, marking the union of the two houses and the beginning of a Tudor reign. The Tudor rose was used as a symbol of peace and today it is used as the symbol of England, just as Scotland uses a thistle,
Wales a leek and Ireland a shamrock.
THE MANY VARIATIONS
These Registered designs were unique to Acme whistles (see exception* ) and were popular for at least 25 years ahead in different additions and variations. Without going into all the details I will mention that there are dozens of variations, and in GENERAL they vary at 3 main features :
THE TOPS 4 TYPES
1) Bubble top
2) Humpback Tops
3) Humpback with Groove (Implied to whistle by wiring technique)
4) Flying V top (See photos below)
THE CAPS
All the three show with these variation:
Early with reg. design number embossed on cap
Later no number NO number embossed to cap
Number embossed to cap at one side
The Tudor Rose Early with 1912 Patent stamp on cap
with or without number (Only on Tudor Rose,*)
THE STAMPS 
The Acme Registered,
The Acme Registered with arched emblem name ( Rose, Shamrock, Thistle)
The Acme Registered and England above the Tooth grip.
No Stamp at all
There may be one having both the emblem name and England, I had not seen one yet.
Dating the variations between 1911 to C. late 1930s I believe,  is not an easy task,
but one can rely on the various Tops & Stamps.
The price of whistles in these
whistles varies a lot and the earlier bubble tops first edition is over 100 USD if to judge by the last ones observed on eBay.
NOTE that a whistle can find a Whistle with a BUBBLE TOP and any of the Caps & Stamp variations which more than triples the variations.
Here is the Tudor rose on left (One or two known**)
and on the center and right BOTH ARE Shamrock with two different stamp variations.
So a full set of three Bubble tops
1)  Numbered on side / the name of the emblem at front /
2) Another set : Bubble tops / no number on side / and the name of emblem on front / ETC.
There are at least 5 variations of a FULL Trio Bubble tops set
A complete early edition would have 15 whistles 5 sets of three bubble tops
(as in Postage stamps )/ and that does not include the tudor roses,
and and there are still  3 other style tops (None bubble series)
The Tudor Rose Close
Here one may see number P-608282 -12
1912 Patent 608282 on cap  and England above tooth grip Observed only on the Tudor rose

Closeup on a Thistle Bubble top and Number on side cap


Another previously unknown earlier variation of  a Bubble Top Shamrock
surfaced October 21. Found not far from Birmingham.
Probably an earlier pre Registered design experimental model.

Here on right hand is the Beak front view. for comparison.

A close inspection of construction reveals the DISTINCT Tooth grip location right at the opening of  the beak upper lip, as in the 131 Barr St. I had the luck to discover in 2006, a previously  unknown one, which was a major find in research & study of Hudson's escargots timeline. since then few more 131 Barr St. variations were found.
_

The bubble top at the top one is of older type. (Does remind of Black & Co.)
With a very short 'neck'  under bubble and wide base.


So we can conclude that this is an earlier variation, Pre 1911.
Multi view of a 'named'  stamped Shamrock on beak.

Flying V Top J. Hudson & Co. Patent # 214519 / 1924 Made 1924 onward
Reg. Numbered design embossed on side cap is an earlier 1920s  version
Example of a later edition 1930s with Shamrock emblem,
no emblem name on stamp, no number on cap and
HUMPBACK Top(Hamp top).

Full set of POST 1924 series but still NOTE STAMP VARIATIONS ON FRONT
reflecting period variations 1920s 1930s
While writing I encountered the next whistle which was made earlier has a button like domed sides and has the same feature as the 1911 ones, the Feature of "Folded Beak" construction with a seam which can be seen  in the middle of the underside.
It was used by Acme since 1894, (Dixon used it as well at the same time including domed sides, one example found in 2018)
The whistle came in 3 sizes see catalogue excerpt below, here is the smaller one model number 61 and 1/2
It has a brass salesman tag with model number, and it is an earlier one since later they used Aluminum tags.
This type was made by Hudson & Co. Acme Whistles Ltd.  up to the 1970s. 

Catalogue excerpt showing the 3 domed sides lite construction snail whistles
These models were later developed and in the 1930s had 4 sizes
(061 & 1/2 size added ) and another ACME LOGO embossed emblem of THE ACME logo replace the plain domed sides.
Very nice whistles and again many variations, see catalogue for 4 sizes starting
with the same 66 & 1/2 Model as the smaller but now with The  Acme Logo side.

Made in 4 Sizes 1930 Catalogue

There are few more themes of embossed sides button style snail whistles by ACME WHISTLES LTD. ( J. Hudson & Co. ) of which the dog head is the most famous but I will discuss this at some other time.
In 2005 I discovered a previously unknown similar Button style whistle with bubble top made by Alfred De Courcy, It was identified with the help of Mr. Gilchrist by the unique 'beak' – mouthpiece, construction which has the seam of the beak only at one side, Later on few more appeared and I realized they had few variations as well starting c. 1910s, all pre 1927 and made for the U.S.A market.
** A similar one, the Tudor Rose in silver not stamped Acme and with a wire loop
top was observed and more common, I had nor examined it carefully yet.
All rights for photos and article reserved to the author. 2019.
You may contact us via this Facebook page 
or via  info@avnerstrauss.com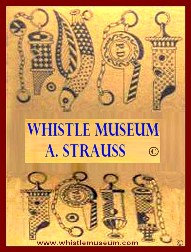 מוזיאון משרוקיות