Black & Co. ( David Black ) 81 North Frederick St. Glasgow –  1885 (or 1883) to 1898 ,  Zin & Tin workers Packing-Case Makers  were pioneers of Snail type whistle making and may well have been the first to use the title ' Thunderer ' for a whistle.
Little was known about the company's  History, a new whistle; the first one stamped with maker's name found 2017 which proved to be a Key Whistle, triggered me to more research and findings .
Previously many whistles as these, none stamped whistles 
attributed to Black showed, All 5 piece London type snail ( Escargot ) whistles.
Here is the new one, fully stamped found.
A railway guard whistle stamped D. Black Maker Glasgow, And  C & OR for Callander & Oban Railway  (a small railway Co. ) on one side,  
other side shows # 3
In Aug. 2018 a smaller variation 49mm with a stamp using different letter design and top (knop) surfaced on eBay It ended for about 400 USD.
We learn from the Paisley one, 4 pictures below that there is a much smaller model may be two smaller ones. As usual with these type the smaller ones are the rarer, so we know of only one model with that small size. 

Another variation, a 3rd known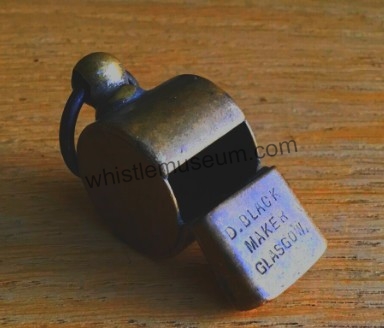 History
Black & Co., Ltd.
Address : 81 North Frederick St. Glasgow

 1886 Glasgow post office directory.
 Mrs. Black was manager of the Black & Co. Making cases,  By 1886 they were Continue reading Black & Co. a 19th Century Glasgow Whistle Maker History & Whistles. A. Strauss