Stevens &­­­­ Sons Whistles & History.   Avner Strauss
Part A        (Underconstruction)
General History, Addresses, Richard Porteous importance and inventions, Railway and more adv.  Stamps time line and a glimpse at few whistle example
from many more to be discussed in more details in part B , C, & D , as interlude.
Whistles
Part B – Tube whistles SNT & TNT
The First Two Notes Tube Whistle,
The first SNT (Single Note Tube) with two windows ,
The Invention of the Partition, & TNT (Two Note Tube) Stevens & Sons
Part C – Dating Stevens & Sons Whistles, Dating Stevens's Whistles,
Round Whistles & others, retailers & Much more.
Part D – Bell Whistles and the discovery of the inventor
John Stevens  1779 – 1861
James John Stevens 1807-1881
James Stevens Jr.  1840 –1911
Warwick Alan Stevens  1842– 1924
Richard Porteous  1802-1881
Company History 
John Stevens was Born in Birmingham 1779 and came to London to start his Business in the early 1800s, He started as a maker and supplier of agricultural
Implement maker,  supplying the army with Shovels & pick axe handles,
during the Napoleonic wars. Soon after the wars he moved into Gas pipes making supplies and engineering, and into Railway supplies which was a fast growing business which he got into influenced by his wife's Brother who was an agent for railway supplies.
In the 1820s, 1830s he was mentioned as having connection to George  Stephenson . ( Inventor of the Locomotive, the miner lamp and "Father of the Railway")
The company grew fast with his son James John Stevens joining and expanding the firm taking part in the Great exhibition of 1851 and 1861 so in the pre Glasgow branch (1865) they already had close to 70 employees while the new SIGNAL WORK kept growing after his father the founder John Stevens died (1861)
James moved with his family to Glasgow in the 1860's.


Stevens & Sons c. 1865 James John Stevens age 58, and two sons James Stevens Jr.age 25 & Warwick Alan Stevens age 23. [other sons which seemed to be less involved in the family business are Leicester Bradney Stevens 1851-1914 and Stafford Evan Stevens 1845 – 1866 who died at the age of 21 are not in photo]
John Stevens Tombstone * at Norwood grave 3817, square 47
(d. December 4 1861 )

other burials at
the grave are
James John Stevens ,
Caroline Matilda Stevens
(d .19th Nov 1871),
Anna Maria Stevens
(d. 26June 1858 )
and Stafford Evan Stevens
(d.12 March1866 )
General note and observation with some reservation: At the time period, there were no whistle makers per se but rather brass founders iron mongers and Arm makers, Kitchen ware manufacturers Button makers and other goods, who made whistles as a "side line", Today whistle collectors and scholars relate to some as Whistle Makers. This article here concentrates on the general Company History and whistles made or attributed to Stevens & Sons and less in many other aspects ( There are many details ) of the family Biography.
See my article about 19th century Whistle Makers.
It is also important to understand that as manufacturers and factory owners had rarely a shop of their own and were dependent on orders from retailers, contractors and companies, this explains that rarely an actual manufacturer name is stamped and many times a stamp of the retailers,
companies or inventor appears.
Stevens & Son, were one of the 3 great whistle makers up to 1860s.
And by the 1840's were manufacturers of mostly Railway related goods: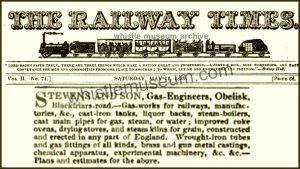 The railway Times Magazine Vol. II 1839 Adv. by Stevens & Son
We can Learn about the diversity of products and projects Stevens & son were manufacturing in 1839 : GAS-ENGINEERS, OBELISK, Black Friars road :
Gas works for railways, manufactories, Cast Iron tanks, Liquer backs, Steam Boilers, cast main pipes for gas, steam or water, improved coke ovens, drying stores, and steam Kilns for grain constructed and erected in any part of England. Wrought- iron tubes and gas fittings of all kinds, brass and gun metal castings, Chemical apparatus, Experimental machinery, etc. etc. Plans & estimates for the above.
One may note which of the above relates to whistles.
From huge iron constructions to Railway Signals and smaller Scales, Hand Lamps and of cource whistles which were not mentenioned in advertisments. Below you can see part of a Scale made at Darlington works and a Hand Lamp made by Stevens in the 1840s .
Here is a historic whistle, heavy gun metal made of one rod and a screw mouthpiece, early whistle before size and weigh were reduced designed by Porteous and made by Stevens C. 1920s, 1830s. A previously unknown whistle found 2015 which employs the first known compound round Mouthpiece .
Part C has a lot more on this whistle and many more, as wellas the next one.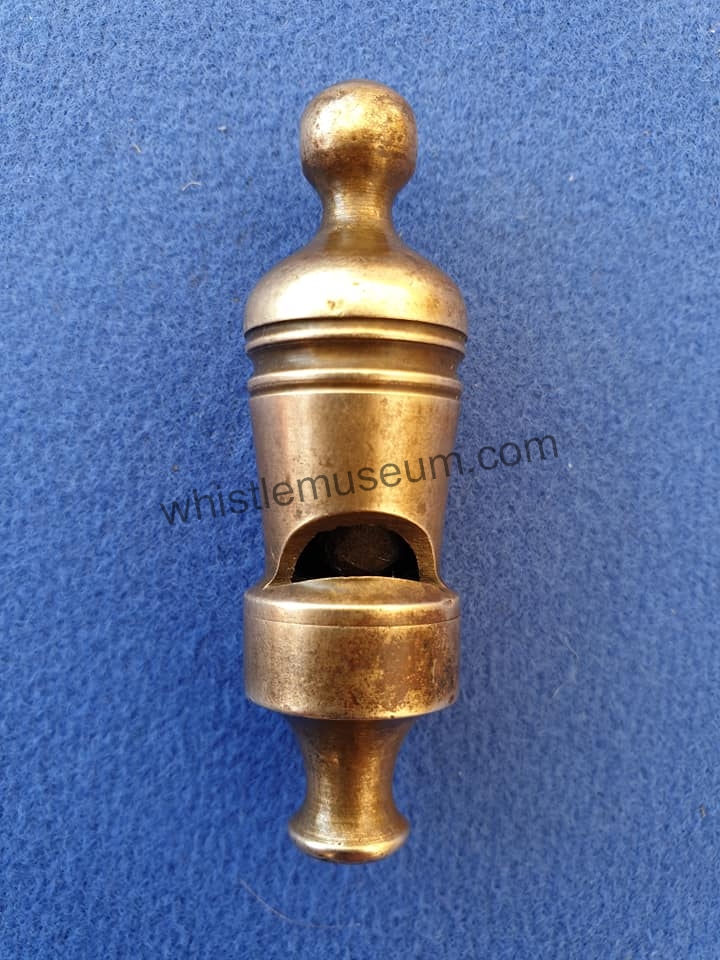 * Photo Dan Wood
Continue reading Stevens & Sons History of the Whistle Maker & His Whistles Part A. A. Strauss