Dixon & Sons Animal Head whistles. Part I. c. A. Strauss
This is part of a very long article to come, Here you can see the First part.
to Part I.a Round Whistles 

James Dixon & Sons Dog Whistles, Dog's Head whistles Models #17, # 16, #29 From his 1883 catalogue.
Dixon started making Animal head whistles c. 1850, by 1883 there were at least
6 Dog's head models and 5 Boar's head whistles.
All appeared in Catalogues as Dog Calls.
Dog's Head Whistles

Pointer's head whistle was made in 4 materials :
Ivory,
Bone &
Britannia metal
Pressed Metal
The fipple was called TONGUE and made of Ebony wood, Glass eyes were used. 

Ivory Dog whistle Dated 1853 (Courtesy of whistlecollection)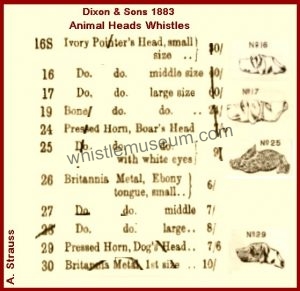 Price List & Drawings animal head whistles, Used Dog Calls, taken from J. Dixon & Sons 1883 Catalogue.
 Above Model #16S. Model #16S in Ivory, Small size, under 2 inch
Model #16 Ivory Middle size.


A Dated Example, Dec. 24 1864 Model #17
Large size with Ebony tongue-fipple.
Model #19 was the same as #17 but made in Bone
Both large size and Window up.We have no record of a model #18.
It may well be that by 1883 they stopped the production of  model #18
which I believe was the same as model #17 but in BRITANNIA METAL.
( Pewter & Britannia Metal Dog head whistles are the more commonly met with, and were made in England & Germany. T. Yates made many variations and it seems very likely that Dixon & Sons made these as well, but it is a subject I still have to carefully check in order to make a definitive conclusion. Note that there are Britannia metal models mentioned in the catalogue excerpt which had not yet surfaced or identified, If you suspect you do have one, kindly send a photo)
Dixon & Sons, Model #17 Large, Ivory Ebony Tongue and glass eyes.
4  Dog head models had window down
Model # 16S very small in Ivory
#16 Ivory window down Middle size.
Model #29 was made in pressed horn, Window down
angled body.

#30 was the same as #29 but in Britannia Metal.
An actual example of #30 was not yet seen by the author.
Boar's  Head Whistles
All 5 Models with window downward.
Dixon & Sons Whistle Model #24, Pressed Horn.

Boar's head whistles were used in 5 models,
pressed horn (M#24)
Pressed Horn with White eyes (#25).
Three Models of the Boar's head were made in Britannia metal with ebony tongue, 3 sizes small, middle, & large (#26, #27, #28).
No actual example of the Britannia metal ones has yet surfaced.
Full article in 9 sub-parts and links;
James Dixon & Sons Whistles & History In the 19th Century. A. Strauss
The full article is in 9 sub-parts. 
Part I (6 chapters)
1) Brief History and data (19th Century)
2) Early Period Round Whistles and 'The sheffield Mouthpiece & Fipple' I. a.,
3) Round Ivory & Horn I.b.
4) Animal Head Whistles, I.c.
5) Round Brass & German Silver Whistles. Signal Whistles and 'Pig nose' Whistles
I.d.
6) Round Britannia Metal Whistles & Model #49. Part I.e.
Part 2,   More whistles by Dixon & Sons, including
7) Beauforts,
8) Extractors, combination whistles, Shooting Gudgets and other combination whistles. II. .b
9) James Dixon & Sons Other Rare Whistle Models & Designs. II.c. 
Article, Photos and content by Avner Strauss, all rights reserved ,
no part of this webpage is to be used without the explicit permission of the owner. Email : info@avnerstrauss.com
Comments & question are welcom.
Whistle museum.