Black & Co. ( David Black ) 81 North Frederick St. Glasgow –  1885 (or 1883) to 1898 ,  Zin & Tin workers Packing-Case Makers  were pioneers of Snail type whistle making and may well have been the first to use the title ' Thunderer ' for a whistle.
Little was known about the company's  History, a new whistle; the first one stamped with maker's name found 2017 which proved to be a Key Whistle, triggered me to more research and findings .
Previously many whistles as these, none stamped whistles 
attributed to Black showed, All 5 piece London type snail ( Escargot ) whistles.
Here is the new one, fully stamped found.
A railway guard whistle stamped D. Black Maker Glasgow, And  C & OR for Callander & Oban Railway  (a small railway Co. ) on one side,  
other side shows # 3
In Aug. 2018 a smaller variation 49mm with a stamp using different letter design and top (knop) surfaced on eBay It ended for about 400 USD.
We learn from the Paisley one, 4 pictures below that there is a much smaller model may be two smaller ones. As usual with these type the smaller ones are the rarer, so we know of only one model with that small size. 

Another variation, a 3rd known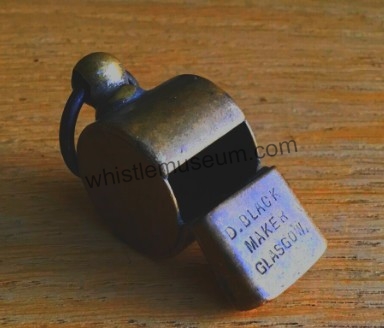 History
Black & Co., Ltd.
Address : 81 North Frederick St. Glasgow

 1886 Glasgow post office directory.
 Mrs. Black was manager of the Black & Co. Making cases,  By 1886 they were already registered as a Ltd. Co, During 1883 – 89 Mrs. Black & David were living in 6 Ailsa St. Hillhead, (West Glasgow) Later renamed  Vinicombe St.  .
The first time the  Co. appears in directories is 1886, so we can safely assume they already active in 1885.
The Manager of the co. in 1887 and later was a man named  John Shaw Carmichael,  Living in 11 Bloomfield Place , so the company must had few workers.
David Black may had been the first to make Escargot whistles and Joined the respected group of  Victorian Glasgow whistle makers including Samuel Auld , Peter McDonald we may add Henry Arthur Ward since he was probably active there for a while making similar London type and Glasgow type whistles.
David Black made various size London type snail whistles in Brass and Nickel Plated Brass. including Button Snail Whistles (Glasgow Police ), Coin side whistles. 
It is possible that Black made other whistles and maybe  Zin – lead made ones as well as other types  yet to be found. I shared some of the whistles I have by Black & Co.
Here are some which were probably made by Black, earlier 'Thunderer' stamped whistles, excluding the left one stamped toward top by H.A. Ward which is identical to some Black's ( Except for top bubble ).

Next is a photo of a Later stamp a  typical Black's : 'The Thunderer' Logo
Note the rectangular frame which were made after the earlier Thunderers above. 

It seems that the flourishing of  the company along with the Escargots – Snail whistles boom in the mid 1880s  made them the first target for J.Hudson – Acme Whistles take over in 1898 buying their stock and tools . ( It should not be confused with a retailer named  John Black & Co. (Glasgow ) stamp found in the Hudson book of stamps )
3 Black & Co. made London type Snail whistles , Left shows the smallest model  Mid. a 1888 Coin whistle, right a Glasgow Police Button whistle with upper mouth piece lip replaced.  Next picture show the same front of the same three.
Left one has a P. Paisley Glasgow retailer stamp and is the smallest model made by Black & Co.
1890s Military Cape Goverment Railway ( South Africa ) with Black's typical
Thunderer Logo in a rectangular frame.  ( This is the actual whistle which was formerly in the Gilchrist collection and was used in his book Mre Whistles Pg. 12
2005 , at the time it was thought Black made whistles since 1888 but we now know he did start earlier.
Black & Family are not to be found in Glasgow after that year so it is possible they left Glasgow.
One of the major outlets for Black & Co. whistles were the McPherson Bros. located at 156 Argyle st. Glasgow at that period .
Here are a few whistles , all made by Black & Co. excluding the one on left made by Hudson, post 1898.
It seems from the construction of his whistles that the whistles supplied to McPherson were made later probably early 1890s.
Note the different stamps used on the next 4 whistles.
You may had seen some on my ARTICLE  written years ago which should be updated sometimes.

Black & Co. Made whistle McPherson Bros Stamp Under 'Beak'


The London Thunderer made by Black & Possibly the 1rst one to carry that stamp,
a 5 piece escargot known as London Type Snail whistle Vs. The Glasgow Style Snail whistle. 
Photo courtesy of Pete Owen.
It seems that D. Black or Black & Co. as it was later made many whistle models,
and supplied various companies mostly  around Glasgow.
It should be noted that in the last 13 years since the Book 'More Whistles' appeared there were many updates as to this specific maker which was a mystery up to two years ago.
I would like to thank Mr. P. Owen for his help and brainstorming some of the issues regarding this maker.
Article whistles & photos by A.Strauss , All rights reserved.
Questions regarding whistles ? Please send with photos ,
info@avnerstrauss.com